Beyond Zero Emissions Launch The Million Jobs Plan
Beyond Zero Emissions is working with communities and partners around Australia to finalise a post-COVID economic recovery 'The Million Jobs Plan' that will pave the way for Australia to become an International economic powerhouse and a renewable energy superpower in the decades to come.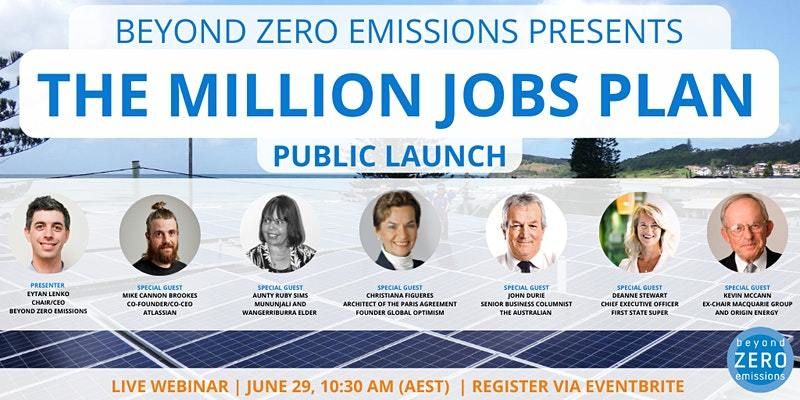 Beyond Zero Emissions (BZE) has created a Million Jobs Plan that they believe will stimulate employment, modernise national infrastructure and reduce greenhouse gas emissions.
Jobs will be distributed around Australia including the places where traditional heavy industry has gone, droughts and fires have ravaged the agricultural sector, unemployment is high and long term employment opportunities have appeared increasingly limited.
The Million Jobs Plan will propose nation building, transformative projects that can upgrade the economy, modernise industry, reskill the workforce and deliver a bright and vibrant future – economically and socially. And early research shows clearly that this is entirely achievable.
BZE believe the Australian economy today "is ill equipped to meet the great economic and environmental challenges upon us. The time is now to retool, reskill, futureproof and rebuild our battered economy."
By following BZE's social media and website, you can stay up to date with the plans as they are released and find out how your communities can be involved and benefit from the implementation of renewable energy upgrades, new infrastructure and technology. BZE truly believe that now, more than ever, the community can achieve goals of reaching zero emissions, whilst boosting the economy and creating mass employment in the process.

On May 6th, 2020 Chair and Interim CEO Eytan Lenko presented BZE's vision for The Million Jobs Plan at the Smart Energy Council's Stimulus Summit. You can download the slides by following this link.
On June 16, 2020 Beyond Zero Emissions launched The Million Jobs Plan – Briefing Paper 2 – Better Buildings. You can watch the webinar launch of Better Buildings here.

Beyond Zero Emissions have been joined by a range of leading Australian and international voices on an advisory panel, including:
Ross Garnaut
Richard Denniss
Cristina Talacko
Malcolm Turnbull
Paul Gilding
Alexie Seller
John Connor
Jamie Yallop Farrant
Simon Corbell
Justine Jarvinen
Caroline Pidock

Roy Green
Katerina Kimmorley
Martijn Wilder
Anne Hellstedt
John Grimes
Monica Bradley
Phil Vernon
James Tilbury
Danny Touma
Christiana Figueres
Danny Kennedy
At 10.30am on June 30, 2020, Beyond Zero Emissions is hosting the public launch of The Million Jobs Plan. You can register to attend online here.