BHP Supplier Innovation Program seeks METS industry problem solvers
BHP has partnered with Austmine to facilitate an open innovation program, to engage suppliers and implement emerging technologies as part of its Mining Equipment, Technology and Services (METS) Sector Strategy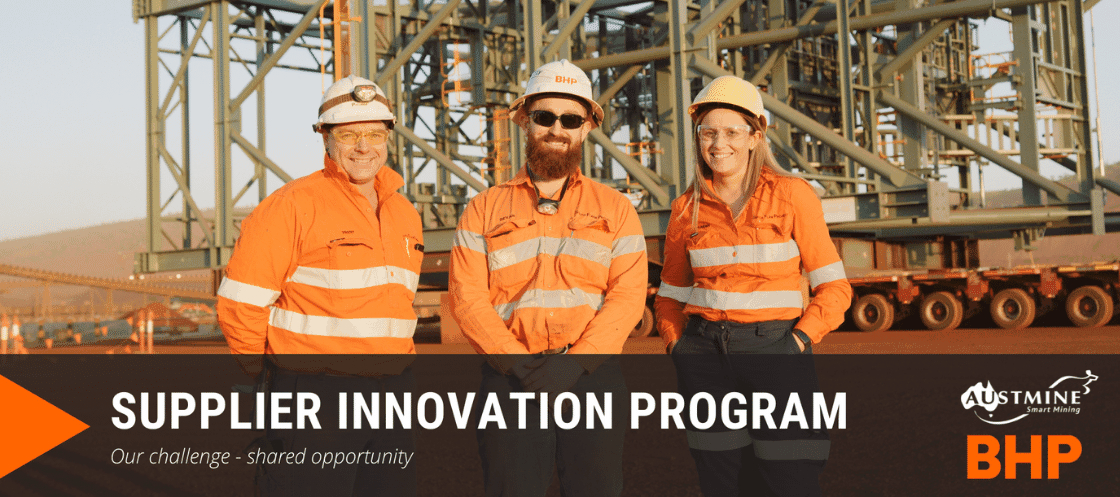 The BHP Austmine Supplier Innovation Program provides opportunities for Australian Mining Equipment, Technology and Services (METS) companies to partner with BHP and Austmine to help solve sector challenges.
The Supplier Innovation Program runs a series of challenges that work like a "hackathon", where business challenges are presented to a group of suppliers who pitch ideas to solve them. The "winning" solution can then proceed to a paid pilot program to test it before committing to its implementation.
It is a different approach to traditional tender methods for engaging suppliers, and allows BHP to crowd-source a broader range of unique and innovative solutions to business challenges. It also makes it easier for the METS sector to access opportunities for ongoing work with BHP, while retaining their intellectual property.
Innovators can address an existing challenge or register for upcoming challenges in their area of expertise. Solutions are being sought for three current barriers to greater efficiency and safety in the METS sector.
Port Hedland Corrosion Challenge - The aim of this challenge will be identifying product options for coating equipment to stop corrosion of the seaside facilities.
BMA Saraji Mine, Coal Sizer Removal Teeth Removal Challenge - The aim of this challenge will be to identify tooling technology to improve the tertiary sizer teeth replacement process.
Conveyor Roller Manual Handling Solution - This challenge relates to the manual handling of conveyor rollers and seeks to establish hard controls for both manual handling requirements and associated dropped object risks for conveyor rollers for in-field maintainers.
Visit the Austmine website to learn more about opportunities for suppliers as part of BHP's Supplier Innovation Program.