Co-Founder of Diffuse Energy to Talk Entrepreneurship in India
Hear James Bradley, Co-Founder of Diffuse Energy, share his insights into the investor and manufacturing epicentre of India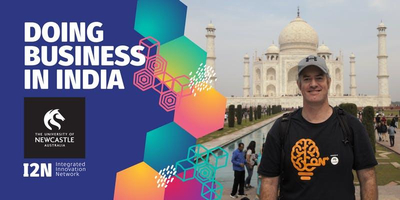 Join the team at I2N Hub Hunter Street as James Bradley, Co-Founder of Diffuse Energy shares his insights into the investor and manufacturing epicentre of India and what's next for the Diffuse Energy team.
James has recently returned from an intense ten days in India where he visited four cities and forty companies. James was the recipient of a Sydney School of Entrepreneurship scholarship to participate in SSE's Young Entrepreneurs International Bootcamp, an immersion program aimed at promoting entrepreneurship between NSW and India's dynamic and fast-developing technology markets.
Using the valuable contacts made during the program and expert knowledge gained on Indian consumer insights, James is now at the start of exploring a India entry Strategy for Diffuse Energy. Hear James share his experience on April 4 in Newcastle.
What is I2N?
The University of Newcastle's Integrated Innovation Network (I2N) fuels the success of innovators and entrepreneurs by connecting them with other founders, mentors, experts, customers and investors, turning their ideas into global impact.
Program Partner
UON is proud to be able to bring this event to you via the NSW State Government's Boosting Business Innovation Program.
To read more about the University of Newcastle's Integrated Innovation Network (I2N) go here.
To read more about Diffuse Energy, go here.

To register for James' talk, go to the event page here.