Consultation open now for Illawarra Offshore Wind proposal
The government is keen on engaging with the local community and stakeholders, and aims to incorporate community feedback into the final decision-making process.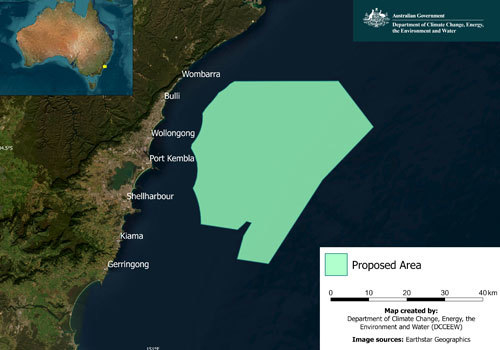 The Albanese Government is taking proactive measures to usher in a new era of renewable energy, energy security, and job stability in the Illawarra region. As part of this ambitious plan, the government has opened consultations for a groundbreaking offshore wind project off the Illawarra coast.

The proposed offshore wind zone covers 1461 square kilometers and holds the potential to generate up to 4.2GW of clean energy through offshore wind farms. This capacity is enough to power approximately 3.4 million homes.
A single rotation of an offshore wind turbine is equivalent to the energy output of an average rooftop solar installation over an entire day. This technology ensures a reliable and steady stream of energy, contributing significantly to the grid.
The Illawarra region's robust offshore wind resources, coupled with its well-established port infrastructure, makes it an ideal location for this project. The Illawarra's identity as an industrial and manufacturing hub, seeking to transition into a renewable generation landscape, aligns perfectly with the goals of this initiative.
The Illawarra also boasts a diverse and skilled workforce, and this project has potential to create new job opportunities, further solidifying the region's position as a pivotal player in the renewable energy sector.
The anticipated outcome includes the creation of approximately 2,500 construction jobs and 1,250 ongoing jobs.
The offshore wind zone under consultation would be situated at least 10 kilometers from the shore, extending out to 30 kilometers near Kiama.

The government has previously identified other regions, including the Hunter and the Southern Ocean, as potential offshore wind zones.
The consultation period is now open and running until October 16th. To facilitate the opportunity to provide feedback, a series of six community information sessions will be held across the Illawarra, giving everyone an chance to contribute their thoughts.
Scheduled to commence in the week starting September 18th, the information sessions will offer a platform for community members, residents, workers, industry groups, and businesses to voice their opinions, ask questions, and provide feedback on the potential offshore wind industry in the Illawarra.
The community within the region and interested stakeholders can attend drop-in question and answer sessions with Department of Climate Change, Energy, The Environment and Water (DCCEEW) staff from Monday 18 September to Thursday 21 September 2023.
The community is welcome to attend at any time during the opening times of the sessions making it a more accessible format.
Bulli
4pm to 7pm, Monday 18 September 2023
Bulli Senior Citizens Centre
8 Hospital Road, Bulli
Port Kembla
10am to 12pm, Tuesday 19 September 2023
Port Kembla Senior Citizens Centre
cnr Allan St and Wentworth Lane, Port Kembla
Wollongong
4pm to 7pm, Tuesday 19 September 2023
Wollongong Art Gallery
46 Burelli Street, Wollongong
Shellharbour
10am to 12pm, Wednesday 20 September 2023
Shellharbour Surf Lifesaving Club
115 Junction Road, Shellharbour
Kiama
4pm to 7pm, Wednesday 20 September 2023
Kiama Leagues Club
110 Terralong Street, Kiama
Gerringong
10am to 12pm, Thursday 21 September 2023
Gerringong Town Hall
106 Fern Street, Gerringong
There is no presentation at these sessions. If you are unable to make it to the start of a session you will not miss out on any information and you will still have your chance to have your questions answered.