EV Streetside Charging project powers forward in NSW
Under the Intellihub EV Streetside Charging project, 50 state-of-the-art, pole-mounted 22-kilowatt EV chargers will be strategically installed on power poles throughout local streets in Sydney and the Hunter by the end of the year.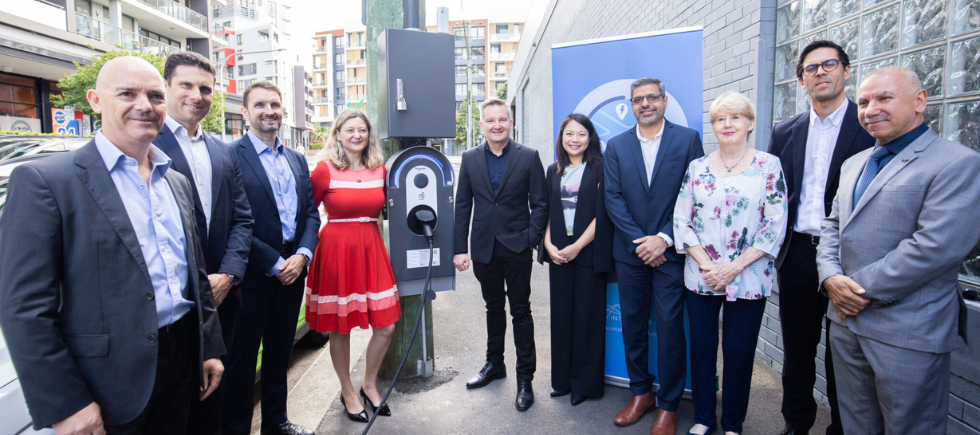 The Intellihub EV Streetside Charging project, which has gained the support of the Australian Renewable Energy Agency (ARENA) through its Advancing Renewables Program, aims to bolster the accessibility and convenience of EV charging for both residents and commuters.

Federal Minister for Climate Change and Energy, Chris Bowen, launched the Intellihub EV charger in Wolli Creek, an inner Sydney suburb today. The chargers have gone live in several locations, including Lane Cove, St Leonards, Maroubra, Coogee, and North Bondi in Sydney.
The project will see an additional 41 EV chargers installed in various Sydney regions, such as St George, Eastern Suburbs, and Northern Beaches, as well as in the Lake Macquarie and Singleton regions in the Hunter Valley.
These chargers are unique in that they are directly connected to the overhead electricity network, ensuring a reliable source of power for EVs.
The Intellihub EV chargers will connect to the Ausgrid electricity network, and Origin Energy is providing 100% accredited GreenPower for the project. These chargers aim to support the growing adoption of electric vehicles in Australia, with approximately 9% of new car sales now being electric vehicles.
High-density housing areas, sports and recreational facilities, local shopping centers, and transport precincts have been prioritized for the charger rollout. Additionally, local councils have engaged with communities to determine the best locations for the chargers.
Many Australian households do not have off-street parking, making public charging solutions like these crucial. EV drivers can book a charging session and simply drive to a designated location for charging. A two-hour charging session typically provides enough charge for around 200 kilometers of driving.
The chargers will be managed through the Exploren platform, developed by Australian EV software and hardware providers EVSE. This platform supports approximately 500 public chargers in Sydney and allows motorists to manage their charging sessions via a smartphone app.
The 22-kilowatt chargers are supplied by Schneider Electric and are enclosed in durable and vandal-resistant metal cases.
The ARENA-backed trial will help gather information about regulatory and commercial barriers for public EV charging, as well as analyze EV owner uptake across different locations and incentives.