Global gong for University of Newcastle team's comminution breakthrough
A novel flotation device developed by University of Newcastle Laureate Professor Graeme Jameson AO has taken out this year's CEEC Medal for Technical Research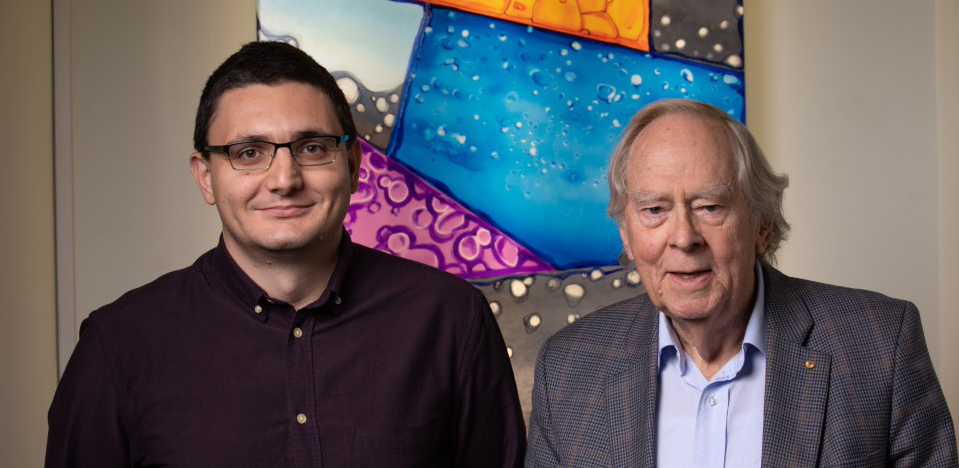 Pictured: Research Associate Dr Cagri Emer and Laureate Professor Graeme Jameson AO
The Coalition for Eco-Efficient Comminution (CEEC) is a not-for-profit organisation whose role is to bring 'new outstanding and inspiring advances' to the attention of people who work in the global minerals industries. The CEEC Medal is a prestigious global award that recognises outstanding advances in sustainable and environmentally-friendly mineral processing.

Prof Jameson and Research Associate Dr Cagri Emer's publication Coarse chalcopyrite recovery in a universal froth flotation machine documents how NovaCell can drastically reduce the mining industry's energy and water consumption, and greenhouse gas emissions world-wide.
What is comminution?
Comminution is the process for reducing an ore to minute particles, for further treatment by froth flotation, in the recovery of metallic minerals, gold and silver. The grinding process is very energy intensive – it uses a significant fraction of Australia's total electrical energy consumption. The energy required for grinding depends strongly on the final size of the particles.
What does the NovaCell do?
This device can handle particles that are much larger than can be processed in conventional flotation machines. By its use, it can reduce energy costs in a typical base metal mill by 40%. This translates to 10% of the total operating cost of a mine that produces a metal like copper, zinc or nickel. Another advantage of the NovaCell is that the rejected material is much coarser than found in current practice. The reject looks like beach sand, which drains easily. Any water it holds can be recovered and re-used in the mineral concentrator. In one operation, the NovaCell addresses two issues of major importance to mining and mineral processing world-wide – reducing energy consumption and minimising water requirements.
Prof Jameson has previously likened this new technology to a Newcastle beach:
"Imagine a bed of sand. If you're well away from the water the sand will be pretty stable and if you stand on it, you don't sink. However, if you go a bit closer to the water you can make the sand fluidise just by moving your feet up and down," he said.
"The sand stays more or less in the same place but the water in the sand is pumped up and down and momentarily it lifts particles away from their neighbours, so the sand becomes liquid-like and you can sink down into it.
"The fluidised bed flotation device uses the same principles by pushing air bubbles through the sediment and this creates a quiet environment for the larger particles to attach to the bubbles."
Announcing Prof Jameson and Dr Emer as the recipients of this year's award, CEEC commented:
"The entry was a clear standout...presenting high quality research that was well supported by strong technical information and cost analysis. This work shows leadership in floatation approaches that can significantly improve comminution efficiency and productivity."