New resources share Indigenous perspectives to inform science practice, plus land and sea management
The knowledge of Traditional Owners, millenia in the making, to educate current and future partners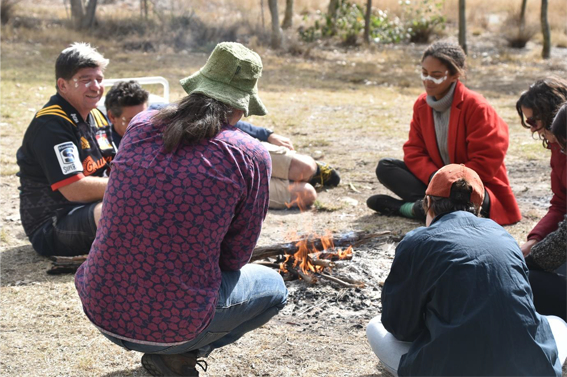 The NESP Northern Australia Environmental Resources Hub has launched 'Our Knowledge Our Way in caring for Country - Best Practice Guidelines from Australian experiences', based on 23 case studies from across Australia, from the Torres Strait to Tasmania.

More than 100 Indigenous contributors have created 'Our Knowledge Our Way', the first Indigenous-led guidelines on how to best strengthen and share Indigenous knowledge in land and sea management, funded under the Australian Government's National Environmental Science Program.

The North Australian Indigenous Land and Sea Management Alliance Ltd (NAILSMA), CSIRO, and the Australian Committee for IUCN facilitated the guidelines as part of NESP Northern Australia Environmental Resources Hub research that is supporting Traditional Owners by enabling the sharing of their knowledge the 'right way' in land and sea management and environmental research.

In addition, the School of Sociology at the Australian National University have released a recording of a recent seminar regarding Indigenous Research Methodologies in Science.
The seminar is presented by Associate Professor Bradley Moggridge, who was named 2019 CSIRO Indigenous STEM Career Professional, 2019 ACT Tall Poppy Award for Science, ACT NAIDOC Scholar of the year and received the inaugural Academy of Science 2019 Aboriginal and Torres Strait Islander Travel Award. Bradley hopes to encourage future generations to pursue interests in STEM, promote his ancestors' knowledge of water and mentor emerging Indigenous scientists.
A/Prof Moggridge explains that Indigenous Research Methodologies can provide a basis for the exploration of this knowledge in a way that that is culturally appropriate, and which generates a cultural safe space with Indigenous researchers and communities.
This aims to shift the research paradigm away from Indigenous peoples being the researched under non-Indigenous research methodologies to becoming the researchers. This allows the Indigenous researcher to derive the terms, questions and priorities of what is being researched, how the community is engaged, and how the research is delivered.