Bio-renewables to revolutionise national energy production
The Hunter based bio-renewables research facility will become a national hub for bio-renewables research, development and commercialisation.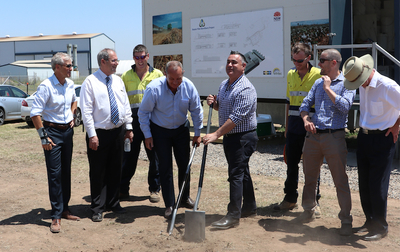 In partnership with Muswellbrook Shire Council and NIER, Ethanol Technologies (Ethtec) is developing an environmentally sustainable process to produce biofuels and other renewable chemicals from crop and forestry waste.
Deputy Premier and Minister for Regional NSW John Barilaro and the Member for the Upper Hunter Michael Johnsen visited the site late last week to officially launch stage one building work for the project.
Mr Barilaro said the Hunter region is already a powerhouse for the Australian energy market delivering visionary methods of power delivery to households and supporting employment across the region.

Stage one of the Hunter Pilot Biorefinery received $4.6 million from the NSW Government under the Growing Local Economies fund, established by the NSW Liberal and Nationals Government to unlock long-term growth opportunities in regional NSW through targeted infrastructure investment.
Ethtec Senior Biotechnologist and University of Newcastle Conjoint Lecturer, Dr Geoff Doherty, said the Hunter Pilot Biorefinery had the potential to transform the agricultural and forestry sectors.

Executive Director Newcastle Institute for Energy and Resources (NIER), Professor Alan Broadfoot, said the facility built on the University's existing world-class research in energy and resources.
"The facility aligns with a global push to capture value from forestry and agricultural waste streams. It has the potential to bring new and innovative skills to the Hunter region, complement existing industry and support economic diversification in the area."
Apace Managing Director and Chief Chemist, Dr Russell Reeves, believes the HPB will enable a higher rate of commercial deployment of bioenergy and biorefining technologies.

The foundation project of the Biorefinery is a $30 million cellulosic ethanol pilot plant project by Apace Research Limited (Apace), Ethanol Technologies Limited (Ethtec), the Australian Renewable Energy Agency (ARENA), Chinese engineering company JTL and the University of Newcastle.