July hydrogen knowledge exchange event to feature workforce skills panel
A team of locally embedded experts will discuss renewable energy workplace skills and training, following updates from AGL and Fortescue.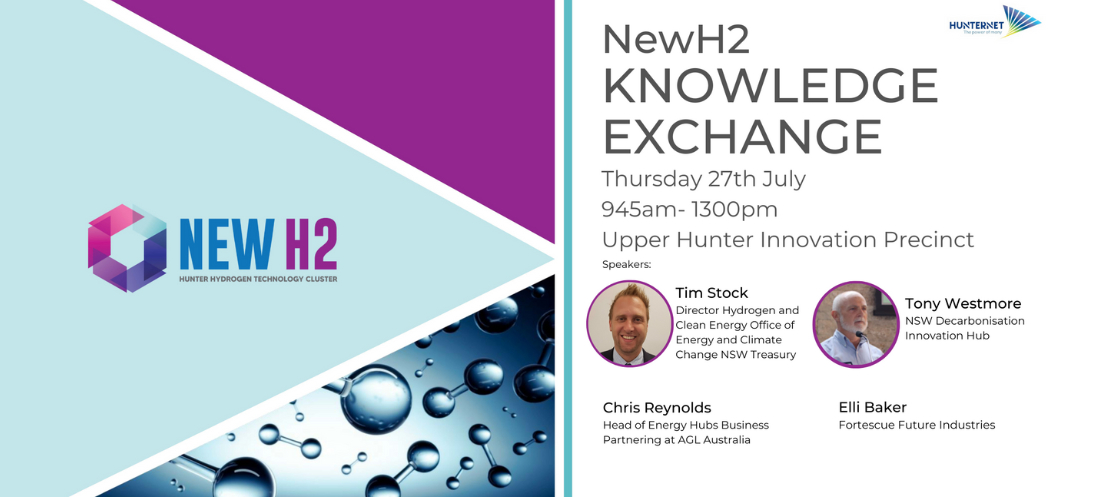 The July NewH2 Knowledge Exchange will take place at the Upper Hunter Innovation Precinct, located within the Muswellbrook Tertiary Education Centre (TEC), on Thursday July 27th. Tickets are $10 and available here.
As well as featuring speakers Chris Reynolds from AGL and Ellie Baker from Fortescue Future Industries, the Knowledge Exchange event will also feature a panel of experts speaking about workforce skills needed for the Hunter's energy transition.
The Workforce Skills Panel will be facilitated by Nick Couper, the Chief Operating Officer with HunterNet Career Connections, who has over 15 years' experience in the Vocational Education and Training sector. Professionally, Nick values creating new opportunities for organisations and their employees to be able to receive quality training with outcomes to set themselves up for success.
Peter Schreiner is part of the Industry Innovation Team at TAFE NSW and has over 25 years' experience across a spectrum of tertiary education sector providers in roles including: technical teacher, educational administrator, curriculum project officer, and industry liaison in the manufacturing and engineering sector. This is coupled with over 15 years' experience working in the advanced manufacturing industry in trade and technical roles.
Myles Egan is a Research Analyst at the University of Newcastle's Institute for Regional Futures. In this role, Myles is involved in a diverse range research projects that are providing evidence and strategy to support regional communities in making the best decisions for their future, including in response to the energy and resources transition impacting regions such as the Hunter.
Kathy Cox is the Training Services Manager for Training Services NSW Hunter & Central Coast, supporting workforce training and development. Kathy was responsible for coordinating the inaugural Upper Hunter Renewables RoundTable held in Singleton in December 2022 at which renewable industry stakeholders connected with training experts to start to identify and match skills required for the region's transition to clean energy.
To read more about the event, go here.