Knights back the return of Voice for Mining Family Day in 2019
Cheer for two great teams - the Newcastle Knights and NSW Miners - at the annual event taking place this weekend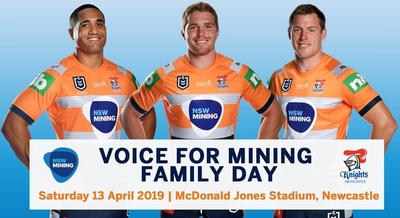 Now in its seventh year, the Voice for Mining Family Day highlights the strong connection between the Newcastle Knights and the Hunter mining sector.
Rugby League fans will have the opportunity to cheer for two great teams - the Newcastle Knights and NSW Miners - at the annual event taking place this weekend at McDonald Jones Stadium on April 13.
The Voice for Mining Family Day will again be a fun and positive event for the Hunter community, as well as a chance for miners, their families and the local community to show their support for the people that make up our local mining industry.
As a former underground miner in the Hunter, Knight Nathan Ross has a first hand understanding of how important mining is to the region.
"I worked as an underground miner, so I understand that mining is the beating heart of the Hunter and really important to thousands of families across the region. This partnership with NSW Mining is not only important to the Knights but to the thousands of miners and their families across the Hunter that contribute so much to the region," Ross said.
"We're calling on all our mining families and supporters of mining to wear orange and high-vis workwear to the game or grab a vest at the gate to show everyone just how important mining is to the Hunter," Ross added.
For everything you need to know to get to the game this weekend, go to the Knights website here.