Leaders in the Australian Circular Economy space to share their knowledge at Newcastle event
Join Hunter Circular as they present International Insights for a Circular Economy on October 26 at Honeysuckle.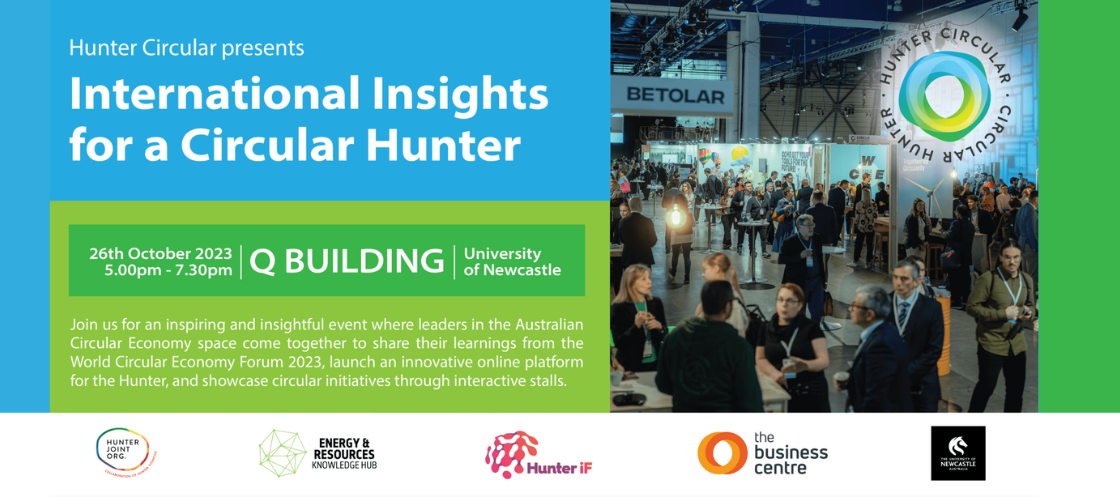 The Hunter is gearing up for an inspirational occasion that will bring together leaders in the Circular Economy space. International Insights for a Circular Economy promises to offer invaluable insights gained from the World Circular Economy Forum 2023, see the unveiling of an innovative online platform, and showcase interactive stalls featuring circular initiatives.
Presented by Hunter Circular, the event aims to catalyze transformative change in the region's approach to sustainability and circularity. It features circular economy experts including Nicole Garafano from Planet Ark's ACE Hub, Annie Jiang representing Go Circular, and Eloise Lobsey from the Hunter Joint Organisation.
Their insights will provide a window into the evolving global circular economy landscape and how these principles can be applied effectively in the Hunter region.
Also on the event agenda is the official launch of the Hunter Circular Hub, an online platform designed to promote cross-sector collaboration. It is designed to facilitate collaboration among businesses, government bodies, and community organizations, promoting innovative solutions and sustainable practices.
This hub will serve as a central resource for circular economy initiatives in the Hunter and Central Coast, empowering the region with the tools and knowledge needed to embrace circular economy principles.
The event will also feature interactive stalls showcasing innovative circular economy initiatives. These stalls will provide attendees with hands-on experiences, offering a tangible glimpse into real-world applications of circular principles. This interactive element will help attendees grasp the potential benefits of circularity for the Hunter region.

Supported by Hunter Joint Organisation, the NSW Energy and Resources Knowledge Hub, Hunter iF, the University of Newcastle and The Business Centre, this event is not just about ideas; it's about action and transformation. It's an opportunity for the community to connect with global leaders, gain practical knowledge, and actively participate in the region's journey towards sustainability.
Hunter Circular presents International Insights for a Circular Economy takes place at The University of Newcastle Q Building in Honeysuckle, Newcastle on Thursday October 26. The $22.50 ticket price includes: attendance, drink upon arrival and canapes.