Looking for Smart Seeds to join the Newcastle Event
The Smart Seeds program offers participants an opportunity to learn, network and influence change with mentoring from established and growing industry leaders.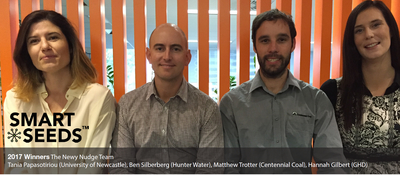 Are you a future leader hungry to inspire and influence real change? Do you love thinking up fresh ideas for complex challenges? Do you see the value in building professional networks?
If yes, there could be a spot for you in the Smart Seeds innovation program, coming to Newcastle this May.
Smart Seeds is a global innovation program for young talent to inspire innovation in infrastructure. It is a design-led innovation program empowering emerging leaders to co-create solutions to real world challenges.

Powered by GHD with partners, Smart Seeds nurtures the collective creativity and entrepreneurial mindsets of emerging leaders to co-create lasting community benefit.
Great News! The NSW Energy and Resources Knowledge Hub is offering a free placement in the program for a lucky candidate. If you or someone you know would be interested in being part of this unique professional opportunity, contact the Knowledge Hub today!

Email rachel.wherrett@newcastle.edu.au or phone (02) 4985 4499.
Smart Seeds is a unique opportunity for participants to:
• Develop new skills in innovation and entrepreneurship
• Apply design thinking through challenge interrogation and idea generation
• Pitch ideas and influence change
• Build professional networks and profile
• Refine presentation and team skills
• Get a buzz from creating and sharing new ideas you are passionate about.
Time commitment:
23 May, Boot camp 1 – Launch Workshop. 4-5 Hours
25 June, Boot Camp 2 – Ideation workshop. 2.5 hours
25 July, Pitch workshop – Influencing change workshop. 3 hours
6 august, Showcase. 6 hours inclusive of preparation time, attendance and networking
In addition to the program workshops and events, participants are expected to invest time and effort, working with their team to develop their idea and pitch over the course of the program.