Power poles to become public EV chargers in Sydney and Hunter trial
Local street side power poles will be turned into electric vehicle (EV) charging stations under an Australian first trial being rolled out across the Sydney and Hunter regions of NSW.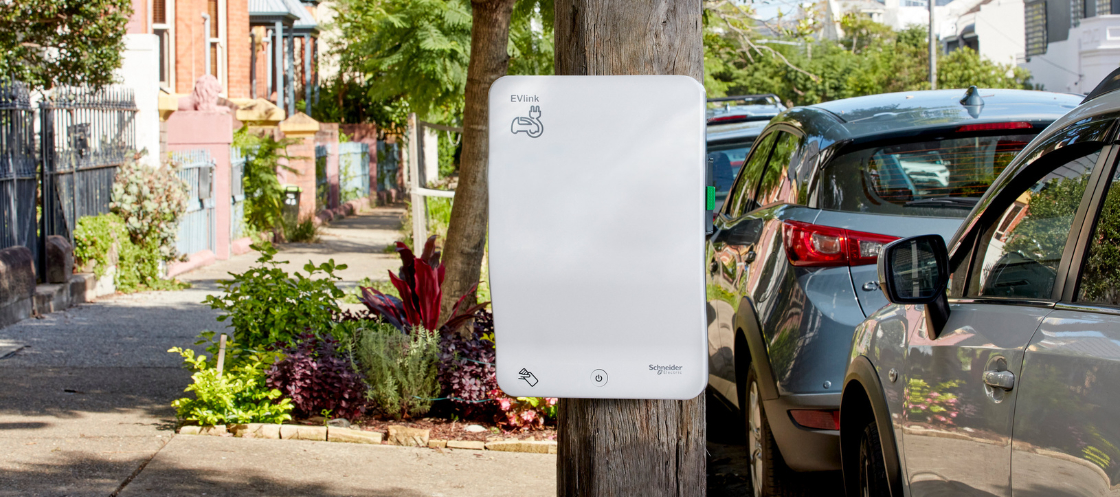 Fifty street-side locations will be selected for the EV Streetside Charging Project, with each EV charging station to be connected directly to the overhead electricity supply and energy use matched with 100 percent GreenPower.
Smart metering and data intelligence provider Intellihub will lead the project, which is being delivered by several energy and EV businesses in partnership with local councils.
The project is being supported by the Australian Renewable Energy Agency (ARENA) with a $871,000 grant. Schneider Electric is providing EV chargers for the project and Origin Energy is providing 100% GreenPower, meaning all the energy used by the EV chargers will be matched with the equivalent amount of certified renewable energy added to the grid.
The charging station sites will be nominated by up to nine local councils taking part in the project. Nominations will be based on feedback from residents, expected demand, traffic access, and parking availability.
Intellihub CEO Wes Ballantine said the project would help tackle the lack of public access to EV chargers, particularly for the one in four Australian households which do not have off street parking.
"It's expected that as many as 10 percent of new car sales in Australia will be electric vehicles by 2025," Mr Ballantine said.
"That equates to an extra 120,000 new EVs on our local streets each year. It is likely that many of these car owners may be unable to charge their EVs from home."

Potential locations for charging stations include areas near apartment buildings and high-density single dwelling suburban streets, shopping strips, bus or train stations, sporting facilities and hospitals.
EV charging specialist at Withywindle David Anstee said there was potential for 190,000 public street- side EV charging stations across the country.
"Thousands of power or light pole-based EV chargers have already been successfully deployed across London, Germany, Canada, and the United States," Mr Anstee said.
"This trial will help us understand and overcome any regulatory barriers and build a commercial model that is fit for purpose for Australian conditions.

The trial is also expected to provide safer ways for EV owners without off street parking to charge their cars. Local councils are receiving regular reports of cars being charged via extension cords strung from homes to cars parked on the street.