Public debut for revolutionary printed solar
A futuristic demonstration of emerging renewable energy material – printed solar cells, is being trialled in a public setting for the first time as it nears commercial readiness.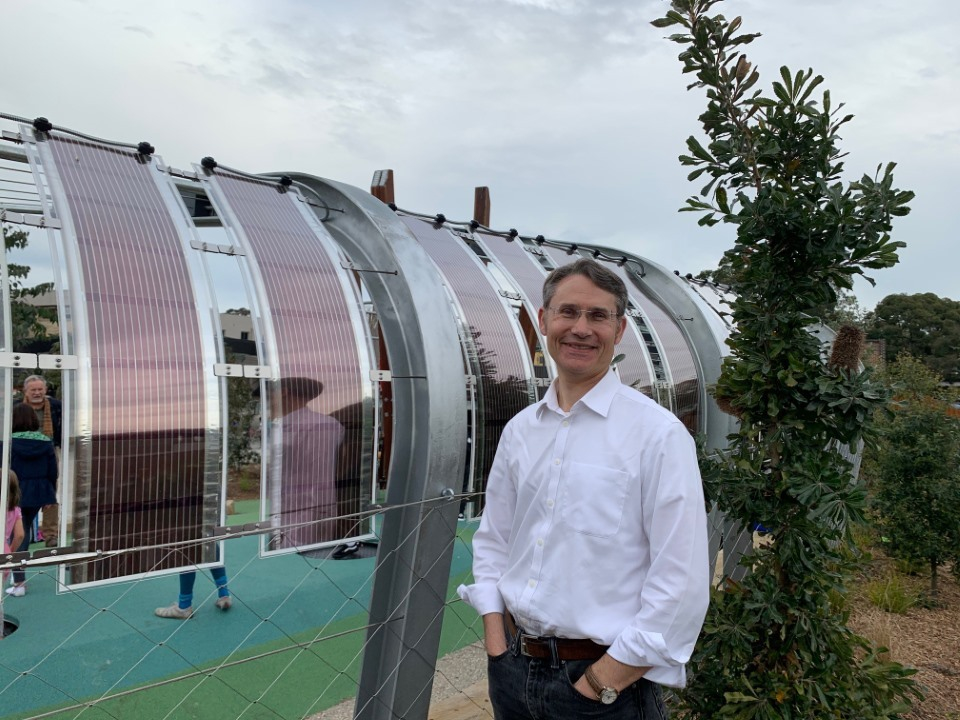 The University of Newcastle renewable energy tech - which is ultra light-weight, ultra flexible, recyclable and cheap to manufacture, will power interactive public lighting in Sydney. The material, similar in thickness and appearance to a chip packet, is manufactured using conventional printers.
Creator of the organic printed solar material, Physicist Professor Paul Dastoor from the Faculty of Science said his team were excited to take their 'science to the streets' in what represented significant progress toward commercial availability of the material.
"Globally, there's been so few of these installations, we know very little about how they perform in a public setting. This installation is the next critical step in accelerating the development and commercialisation of this technology. It presents a new scenario for us to test performance and durability against a range of new challenges," said Professor Dastoor.
"Located within Lane Cove Council's vibrant new urban space 'The Canopy', this demonstration plucks extraordinary science from behind sealed lab doors, and places it in an ordinary environment, where people will interact with it as they go about their grocery shopping, play with their children in the park, or enjoy food in one of the nearby restaurants. It's an effortless and subtle way to spark conversation and showcase 'what's next' in energy generation to thousands of people."
Professor Dastoor said he was hopeful the public installation would prompt further discussion on the subject of energy as the Federal Government considered submissions to its technology investment roadmap.
The government is seeking to bring down carbon emissions over the next 30 years and the community has been very engaged on this subject. Globally, there are many research groups like ours working on sustainable energy technologies and now, via the technology investment roadmap, is our opportunity to ensure we invest in and deliver clever solutions," said Professor Dastoor.
Director of the University's Newcastle Institute for Energy and Resources (NIER), Professor Alan Broadfoot, said the University was committed to bringing the world closer to a sustainable future through its next generation resources engagement priority.
"The printed solar project highlights the transformational research coming out of NIER through valued partnerships with government, industry, and the community in critical areas such as new energy technologies," said Professor Broadfoot.
A new advanced manufacturing industry for Australia
This installation follows a successful commercial-scale public sector installation with CHEP in late 2018. Professor Dastoor said global interest in printed solar was the highest he had ever witnessed and that an advanced manufacturing facility for printed solar in NSW was the imminent goal for his team.
"We have a world-class manufacturing facility at the University's Newcastle Institute for Energy and Resources (NIER), which has been generously supported by the Australian National Fabrication Facility (ANFF). This print facility can manufacture hundreds of metres of material a day, however we're now reaching the point where we need to significantly scale this level of production," said Professor Dastoor.
This technology will really disrupt and revitalise the contracting print industry. Printed solar is manufactured on conventional printers – our lab-scale system previously manufactured wine labels.
"As a diverse team of physicists, chemists, engineers and educators, we're considering not just the scaling of material production, but the education and training framework that will wrap around the industry to train and retrain an entirely new workforce.
"As an educator and a father my greatest hope is that we may, through this public display, inspire young people interested in STEM to imagine the exciting and entirely new career possibilities that will exist for them, brought about through new industries like these. Young people inspired by this demonstration could become our first, pivotal wave of high-tech workers helping to bring printed solar to fruition – that's an incredibly exciting idea."