Register of Interest for NSW Central-West 3 GW Renewable Energy Zone (REZ) now open
Renewable energy, energy storage and emerging energy project proponents being sought to be part of the state's first pilot Renewable Energy Zone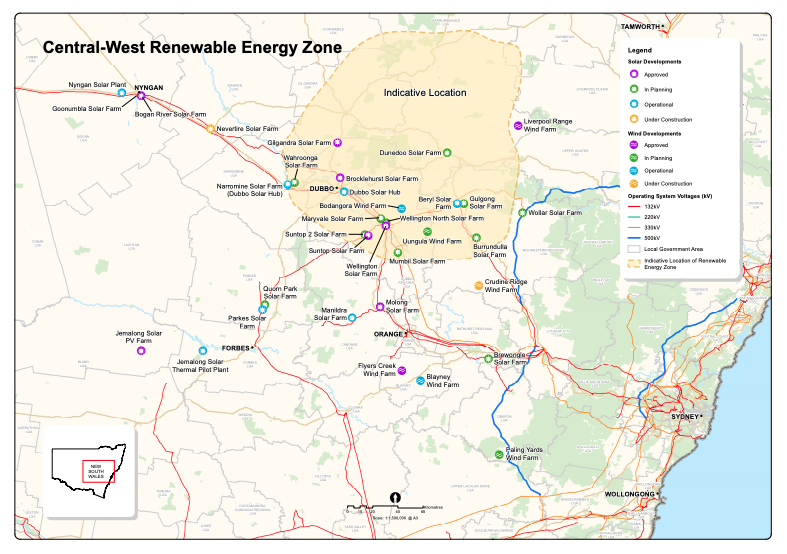 The NSW Government's Electricity Strategy sets out a plan to deliver three Renewable Energy Zones (REZ) in the State's Central-West, New England and South-West regions. This builds on the NSW Transmission Infrastructure Strategy and supports the implementation of the Australian Energy Market Operator's Integrated System Plan.
The Central-West region is the planned location for the first pilot REZ because it benefits from significant existing investment and investor interest, with around 4,500 megawatts of projects either approved or in the planning system, relatively low build costs, and a strong mix of energy resources.
The Department of Planning, Industry and Environment (DPIE) is asking renewable energy, energy storage and emerging energy project proponents to register their interest in being part of the state's first pilot Renewable Energy Zone in Central-West NSW (Central-West REZ).
The Registration of Interest (ROI) will help the NSW Government understand the scale, location and types of projects considering joining the Central-West REZ. The information provided will support technical design, planning and further market engagement on the Central-West REZ.
To respond to the ROI, please click here. Participants with multiple projects in the Central-West REZ can submit multiple responses. The ROI will be open for two weeks and will close on Friday 5 June 2020.