ResTech partnership opens state-of-the-art facility at the University of Newcastle's Callaghan Campus
The Living Lab extends opportunities for industry and education to work together to forge career pathways which support the global energy transition.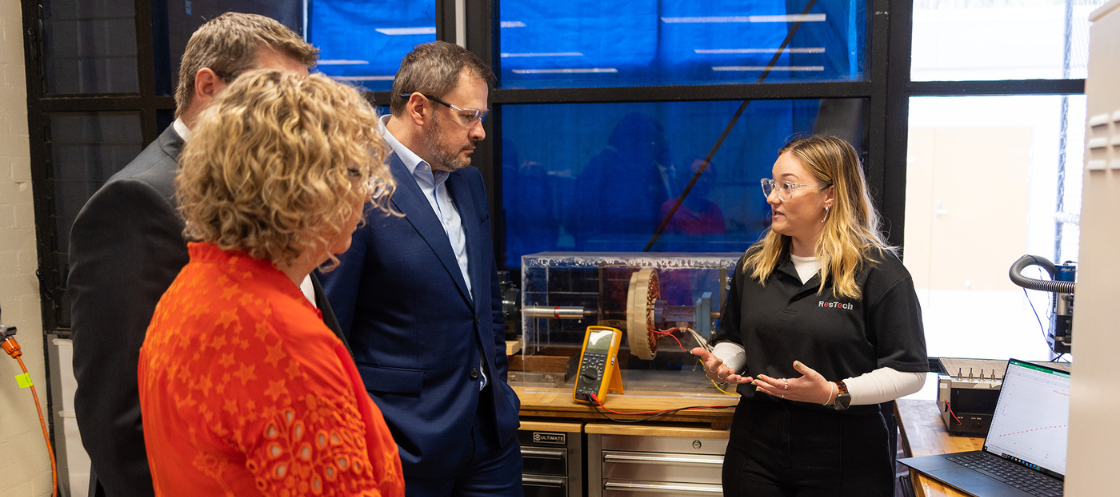 ResTech, a dynamic collaboration between Ampcontrol and the University of Newcastle, welcomed the Honourable Ed Husic MP, Minister for Industry and Science, to inaugurate their cutting-edge Living Labs facility today at the Callaghan Campus.
ResTech, as a joint venture, is strategically poised to accelerate the development and commercialization of groundbreaking technology and solutions tailored for the energy, infrastructure, and resources sectors. This venture not only bolsters industry advancement but also offers a pivotal platform for engineering students to engage in real-world problem-solving and graduate as highly-prepared, community-focused professionals.
Rod Henderson, Managing Director & CEO of Ampcontrol, explains.
"ResTech brings together two entities—Ampcontrol and the University of Newcastle—who are united in their goal to deliver energy solutions which will help make global net zero a reality. The engineering smarts and advanced manufacturing capability of Ampcontrol through ResTech will contribute great value to finding innovative solutions to decarbonise."
One of the central features of ResTech is its provision of Final Year Project opportunities for undergraduate engineers. This empowers students to gain invaluable experience while working on challenging research projects in collaboration with industry leaders.
During the visit, Minister Husic had the privilege of engaging with students at ResTech, witnessing firsthand the innovative solutions being developed to advance the global net-zero agenda.
Innovative Projects Unveiled: Paving the Way for Sustainability
Three remarkable projects were showcased during the visit, each bearing significant implications for advancing sustainability and industry safety:
1. Tiana Leck's Wind Energy Collection: Tiana Leck, a Research & Development Engineer, unveiled her project focused on critical technology for home Wind Energy Collection. Her work moves society closer to the vision of allowing individuals to install their own portable and affordable renewable energy systems.
2. Finlay Barnett's Arcing Earth Fault Simulation: Finlay Barnett, an Industrial Experience Placement Student, demonstrated an apparatus designed to simulate arcing earth faults and calculate the energy dissipated by the arc. This innovation has potential applications in determining the ignition risk of methane in underground coal mines, thus enhancing safety in this vital industry.
3. Finn Lawrie's Lithium Titanate Battery Research: Finn Lawrie, an Industrial Experience Placement Student & Final Year Project Student, shared his project focused on researching lithium titanate battery cells to tackle the challenge of efficiently managing battery cells in electric vehicles. Such advancements are crucial for the widespread adoption of electric vehicles, contributing to cleaner transportation solutions.
This partnership between Ampcontrol and the University of Newcastle is poised to play an integral role in shaping the future of the energy, infrastructure, and resources industries.

To read more about ResTech, go to the website here.