Tickets for expanded Hunter Hydrogen & Energy Symposium 2023 now available
The new program has been enhanced to cover broader energy developments, projects, and opportunities in addition to specific Hydrogen-related discussions and presentations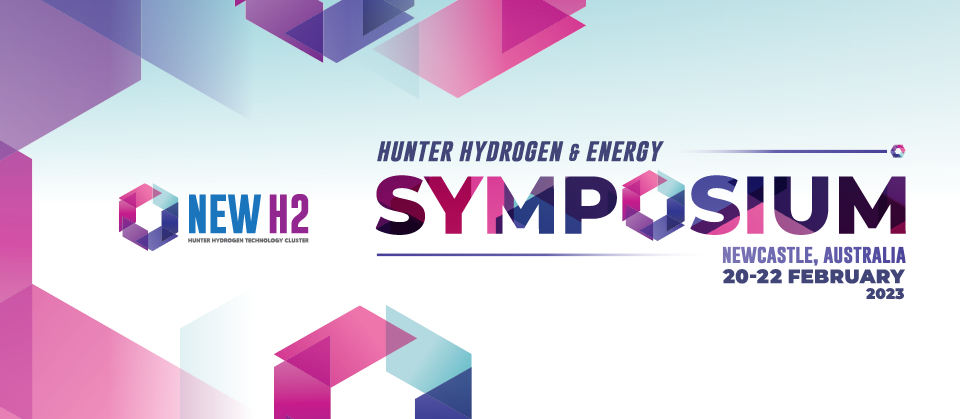 The Symposium is set to be a cornerstone event for the region, kicking off with welcome drinks from 5:30pm Monday 20 February, followed by a two-day symposium across Tuesday 21 and Wednesday 22 February, with an industry dinner on the Tuesday evening. The welcome drinks and Symposium will be held at the Rydges Newcastle and the dinner at Fort Scratchley.
This is a fantastic opportunity to be involved in one of the first Hydrogen and Energy events in the national calendar for 2023.
The new program features:
Day 1 (Tuesday, February 21)
Session one: The Opportunity for Hydrogen and Energy in the Hunter
Session two: Speaker and Panel Discussion: Enabling Investment in Hydrogen and Energy Sectors
Session three: Hunter Hydrogen Projects Showcase
Session four: Innovation Showcase
Session five: Research Showcase

Day 2 (Wednesday, February 22)


Session one: Enabling the Energy Transition in the Hunter
Session two: Hunter Energy Projects Showcase
Session three: Skills and Workforce Development
Session four: Speaker and Panel Discussion: Stakeholder and Community Engagement
Session five: Innovation & Research Partnerships

Whilst the event has been expanded, ticket prices for the Symposium remain the same as previously advertised:

The "Symposium Package" is just $860 and includes the welcome drinks, two days of the Symposium and the industry dinner
Our "Symposium Only" ticket for $595 covers attendance at both days of the event
Morning tea, lunch and afternoon tea on Day 1 and Day 2 are included for both the "Symposium Package" and "Symposium Only" tickets
All other catering is at the delegate's own expense
Travel and accommodation are excluded
Tickets are non-refundable but are transferrable.
There has also been a release of a limited number of "Dinner Only" tickets for $165.

NewH2 has also expanded the sponsorship opportunities for the Symposium. If your organisation may be interested in learning more about the inclusions of the sponsorship, you can download the Prospectus: https://qrcgcustomers.s3-eu-west-1.amazonaws.com/account6317852/32483462_1.pdf?0.8101748065230355
Please visit the NewH2 website for full details and to purchase your tickets: https://www.newh2.net.au/symposium