'Thumper' trucks unlocking secrets through deep crustal seismic reflection survey
A slow-moving convoy of trucks will help uncover the origins of ancient supercontinents, by sending vibrations deep into the Earth to build a picture of what lies beneath south-eastern Australia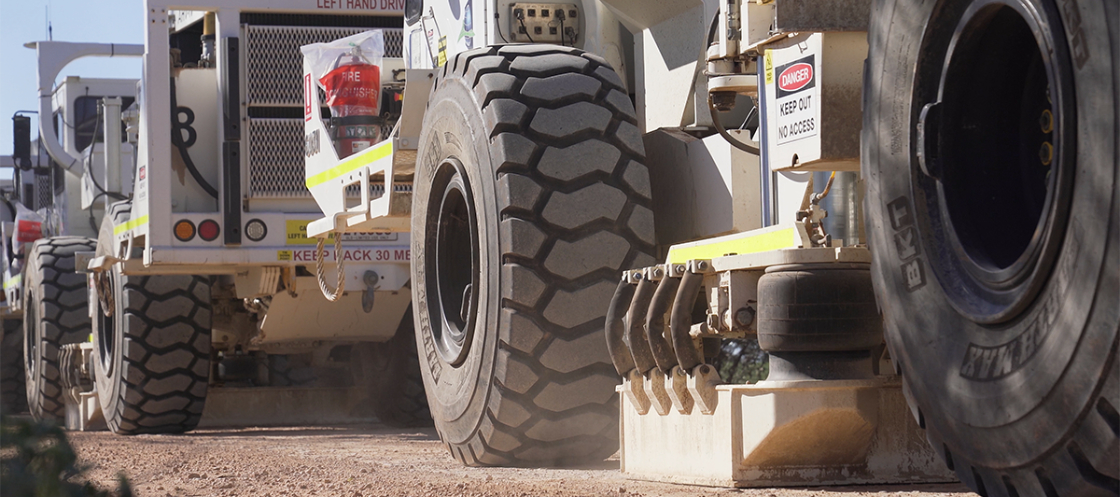 Since May 2022, vibroseis trucks have been crawling across South Australia, New South Wales and Victoria to collect data which will be used to map the geology and structure of the Earth up to 60 kilometres below the surface.
Also known as "thumper trucks", these vehicles are fitted with vibrating plates which send seismic waves into the ground to bounce off the different rock layers.
These signals can be used to create an image of the rocks below, similar to a medical ultrasound, revealing possible groundwater, mineral and energy resources, as well as the shapes and positions of ancient geological structures formed during the assembly of the continent hundreds of millions to even billions of years ago.
This deep crustal seismic reflection survey is being conducted by Geoscience Australia, in partnership with the Geological Survey of South Australia (GSSA), the Geological Survey of Victoria (GSV), and the Geological Survey of New South Wales (GSNSW), as part of the Exploring for the Future program's Darling-Curnamona-Delamerian (DCD) project.
The Curnamona Province is a roughly circular block of rocks at least 1.7 billion years old that lie under the New South Wales-South Australia border.
The roughly 500-million-year-old Delamerian Orogen - where a volcanic chain formed along a prehistoric continental edge was crumpled into mountains before being eroded away over hundreds of millions of years – wraps around the Curnamona Province and extends through New South Wales, South Australia, Victoria and into Tasmania.
The geology of this area has many similarities to other regions with rich mineral wealth like Mount Isa, Queensland and Orange, New South Wales.
"There is an urgency to discover new world-class resources to meet the projected demand as the world transitions to a low-carbon economy," Dr Roach said.
"New understanding of the Curnamona and Delamerian geology will enable explorers to better target their search for these minerals and develop a pipeline of resources that will anchor secure supply chains for Australia and its partners."
The Australian Government's $225 million Exploring for the Future program has been gathering and analysing geological and geophysical data to fill in the blanks about Australia's geology since 2016.
The program puts key information in the hands of Australians, creating short, medium and long-term jobs for regional communities and enabling landholders, industry and government to make informed decisions involving Australia's geology.