Work begins on transformation of former Newcastle colliery into Hunter's largest solar farm
Construction on the Hunter's biggest solar farm has begun after Lord Mayor Nuatali Nelmes turned the first sod on a disused landfill site and former coal mine at the City of Newcastle Summerhill Waste Management Centre facility.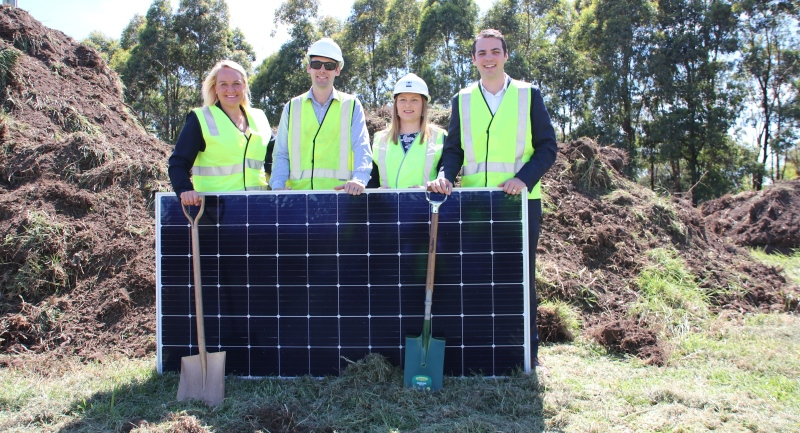 The five - megawatt solar farm will increase the City 's renewable energy generation capacity tenfold and save rate payers around $9 million over its 25-year lifespan. Covering an area of around five football fields on a capped landfill once part of the Wallsend Borehole Colliery, the solar farm' s 14, 500 photovoltaic solar arrays will help dramatically reduce the city 's annual electricity bill.
The City of Newcastle secured a $6.5 million loan from Australia 's Clean Energy Finance Corporation (CEFC) to help build the farm, which will comprise solar panels and infrastructure built by international property and infrastructure group Lendlease and EMC.
The new facility builds on one of Australia 's most advanced renewable energy setups at a waste facility -- with a 2.2megawatt landfill gas generator and a small wind turbine already located at Summerhill.
The solar farm and the other rooftop installations already installed by the City are part of actions endorsed by the Cities Power Partnership, a Climate Council program in which cities and towns pledge key actions to reduce their climate impact.
The City of Newcastle 's single largest investment in a renewable energy project follows eight other solar installations at its Waratah Works Depot, Art Gallery, City, Wallsend and New Lambton libraries, No.1 and No.2 Sportsgrounds and Newcastle Museum.
"We are building sustainability into everything we do after reiterating our commitment last year to generate 30 percent of our electricity needs from low-carbon sources and cut overall electricity usage by 30 per cent by 2020," Cr Nelmes said.