10th Illawarra Industry Showcase
Tickets are now on sale for the Illawarra Industry Showcase, the premier event for industry in the Illawarra, now in its 10th year.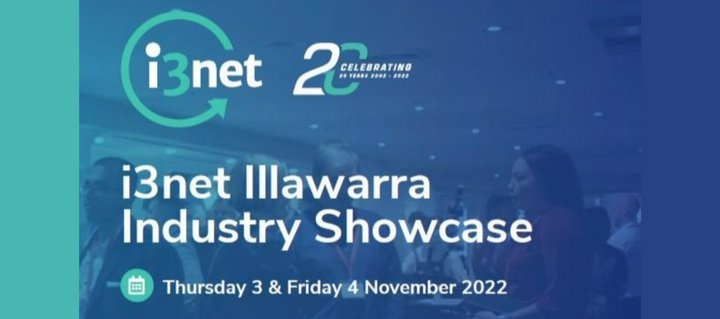 Be involved on Thursday 3 November for the Showcase Expo and Dinner and Friday 4 November for the Showcase Expo and Breakfast, held at the beautiful Novotel Northbeach. Cliff Road, North Wollongong, NSW.
The exciting 2022 event program will include everything you love from previous Showcase events with stand-out panels, plus industry tours, a VIP cocktail hour and a new speed networking session.
Attend to connect, share and celebrate!
Discover the capability of the region, learn about real business opportunities and network easily with the key decision-makers.
SHOWCASE DINNER
The Dinner features excellent networking opportunities, three industry panels, plus expo and celebration of i3net's 20th year anniversary.
Thursday 3rd November 2022
5.30pm to 10:30pm.
Highlights:
Hear from three expert industry panels
A whole evening to network with showcase delegates
Visit the showcase expo
Enjoy a delicious dinner with drinks
Special event price for i3net members, corporate partners or event sponsors: $130+GST.
$250+GST for guests.
SHOWCASE BREAKFAST

The breakfast features a Presentation, Speed networking session with Showcase Delegates and Showcase Expo.
Friday 4th November 2022
7:30am to 10:30am
$90+GST for members and partners. $200+GST for guests.
SECURE YOUR EXPO POSITION
Get your business in front of the right audience and secure your Expo position for the 10th Illawarra Industry Showcase event. This year Expo holders will need to pay to secure their position and can choose from a standard or premium position. Limited spots available so be quick to secure your position!
SPONSORSHIP OPPORTUNITIES
Would you like your business to be seen at the premier event for Industry? Get high brand visibility with a variety of sponsorship opportunities available to suit every budget. Investments starting from only $1,000.
SPEED NETWORKING MASTERCLASS

Be prepared to tackle the Showcase with intention and purpose and learn how to speed network like a champion! Speed networking requires more than a sales pitch. When the conversation is interactive, we need to approach it differently. You will walk away from this masterclass with a tried and tested blueprint that you can follow for years to come!
Thursday 13 October
9am – 1pm
Innovation Campus
Delivered by experienced coaches and mentors, Craig Morris & Anna Saunders from Leadership Creativity.
Only $55+gst for members & partners.
This session has been heavily subsidised thanks to Leadership Creativity kindly donating their time to run this session.