2020 Symposium on Lithium Supply Chain for a Green and Mobile Energy Future
This two-day event will feature a series of presentations, discussions & workshops based on the most critical of lithium supply chain topic.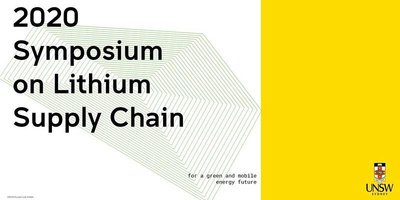 With the world increasingly shifting towards renewable energy technologies, lithium is fast becoming a hot commodity. The metal is an integral component of batteries and is in high demand for use in electric and hybrid vehicles. While lithium is not yet in short supply, there is a finite amount on earth, and all aspects of the supply chain must be carefully managed to ensure the valuable resource is extracted and utilised in a sustainable and ethical manner.
The program will present the latest science and industry updates relating to all stages and external aspects of the supply chain, including: availability and competing demands, clean technologies for extraction and processing, enforceable legal frameworks to protect the environment and finally an economic framework that ensures maximum utility from this limited resource.
This event will be livestreamed using Zoom Video Webinar. Livestream links will be issued by email to the ticket holder after registration has closed.
Contact Greg Leslie, Director UNSW Global Water Institute (Chair) - SLSC2020@unsw.edu.au
Abstracts are now open - Abstract submissions now extended to the 1st October 2020.
We can confirm that our entire symposium will be presented virtually and as our costs have reduced, so have our tickets. Tickets now free. Please register for your Livestream tickets now. Ticket registration will close 16th November 2020.