2020 Symposium on Lithium Supply Chain for a Green and Mobile Energy Future
The full-day event will feature a series of presentations and discussions based on the most critical of lithium supply chain topics.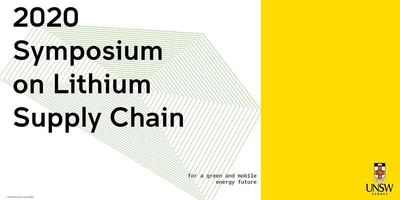 With the world increasingly shifting towards renewable energy technologies, lithium is fast becoming a hot commodity. The metal is an integral component of batteries and is in high demand for use in electric and hybrid vehicles. While lithium is not yet in short supply, there is a finite amount on earth, and all aspects of the supply chain must be carefully managed to ensure the valuable resource is extracted and utilised in a sustainable and ethical manner.
The draft program for the Lithium Supply Chain symposium is now available.
Click here to view the program
This event will be livestreamed using Zoom Video Webinar. Livestream links will be issued by email to the ticket holder after registration has closed.
Contact: Greg Leslie, Director UNSW Global Water Institute (Chair) - SLSC2020@unsw.edu.au
Please note the format of our event has now changed from a two-day event to a one-day event on Friday 20th November, 2020. Please register for your Livestream tickets now. Ticket registration will close 18th November 2020.