2021 Australia-Korea New Energy Forum
The forum brings together Australian and Korean participants to join an in-depth discussion on how both nations can collaborate and benefit from the advancing opportunities in 'Hydrogen, Low Emissions Technology, Renewable Energy and Critical Minerals.'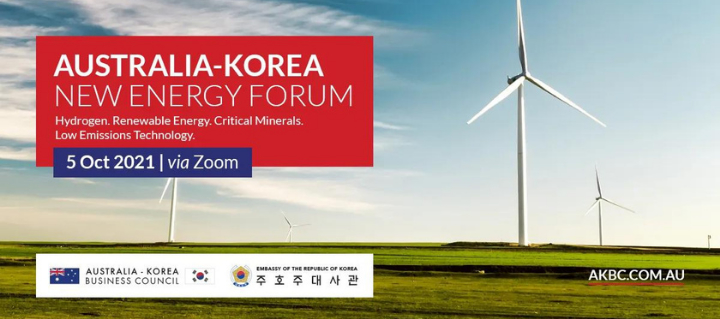 In July 2020, the Korean Government announced the Green New Deal, followed by a pledge in October 2020 to achieve carbon neutrality by 2050.
Meanwhile, Australia is taking a technology-led approach to deliver economic and emissions reduction outcomes for Australia. As both countries look towards a cleaner future and with the pandemic accelerating the global climate change agenda, this discussion is timely and will explore how we can use this common goal to maximise the potential of our bilateral relationship and find innovative solutions to our emerging energy sectors.
Sponsored by the Korean Embassy and AKBC, the event has already attracted interest from Australian and Korean stakeholders within the hydrogen, low emissions technology, renewable energy and critical minerals sectors including senior executives across government, EPC contractors, developers, mining companies, education and research organisations, consulting firms and financial institutions.
The AKBC and Korean Embassy are delighted to be partnering with The University of Melbourne on this event.