2021 National Work Health and Safety Colloquium - Back to the Future
How research is using innovation to combat old problems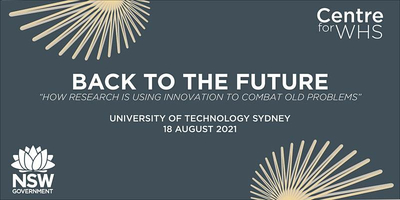 The Centre for Work Health and Safety is excited to again be hosting the 2021 National Work Health and Safety Colloquium on Wednesday 18th August at the University of Technology Sydney.
 This year, the theme is 'Back to the Future – How research is using innovation to combat old problems' and we have a line up of incredible researchers who will showcase how their research has made an impact in work health and safety. 
We are delighted to announce our keynote speaker for 2021 is Professor Sarah Pink!
Professor Sarah Pink is Director of the Emerging Technologies Research Lab, which undertakes critical interdisciplinary and international research into the social, cultural and experiential dimensions of the design, use and futures of new and emerging technologies.
Her research focuses on emerging intelligent technologies, automation, data, digital futures, safety and design for wellbeing. Current projects investigate autonomous driving vehicles, Mobility as a Service, digital energy futures, self tracking and wearable technologies, smart phone and personal technology futures, digital technology use in everyday life, and health care design.
Sarah is a world leading Design Anthropologist, known for her development of innovative digital, visual and sensory research and dissemination methodologies, which she engages in interdisciplinary projects with design, engineering and creative practice disciplines to engage with contemporary issues and challenges.