A2EP Training: Decarbonisation Technologies 101
A2EP are now accepting bookings for the first sessions of their one-day Decarbonisation Technologies 101 training which covers the fundamentals of energy productivity and decarbonisation technologies. Map the business case and explore practical approaches to implementation.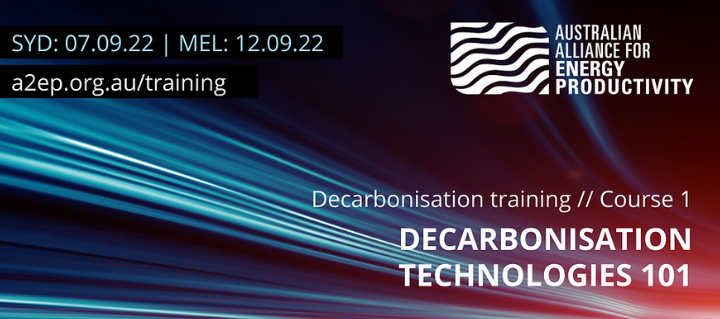 The question is no longer whether to decarbonise, but rather how to decarbonise; how to accelerate the transition to net zero. Many Australian businesses have committed to net zero carbon emissions by 2050 and/or interim targets. The rationale for decarbonisation might vary between organisations but the concepts, approaches and technologies are consistent.

This one-day program covers the fundamentals of energy productivity and decarbonisation technology. It maps the business case and explores practical approaches to implementation.
Who should attend?
The course is primarily designed for those new to the world of net zero, decarbonisation and energy productivity.
junior engineering and environmental science graduates working with manufacturing, equipment supply and energy advisory/consulting firms
government officials who work with energy and decarbonisation seeking to get a deeper understanding of how business is working with decarbonisation
accountants, marketing, communications and other professionals wishing to understand the challenges, opportunities and solutions of decarbonisation

What you can expect
Networking for strength - a community of peers
Why decarbonise? The context for net zero.
Unpack key terms, acronyms and concepts.
Measurement: How to track and report change
Identify opportunities. We have the technology.
Incentives to decarbonise: Financial, productivity. Assistance: Grants, loans, certificates.
Pitching decarbonisation projects: Using non-energy benefits in the business case
After the course you will:
Know the key parts in assessing an emissions footprint
Know options for monitoring and reporting systems
Have an awareness of the technologies that can be deployed for decarbonising electricity and gas usage
Know how to account for a wide range of benefits: Decarbonisation plus
Be able to build and communicate a business case for investment
Course dates:
Sydney - Wednesday 07 September, University of Technology Sydney, Ultimo - BOOK NOW!
Melbourne: Monday 12 September, RMIT University, Melbourne - BOOK NOW!

Course fees
Those working for our A2EP Member organisations that you will be eligible for discounted access to this and future course.
A2EP member $1188 (including GST)
Non-members $1320 (including GST)
The training includes practical worked examples drawn from personal and professional experience to illustrate concepts and approaches. A2EP will issue a certificate of participation. Participation may qualify for credit to your continuing professional development program. The course will be limited to 16 participants in each location.

Webinar preview: Introduction to Decarbonisation - Wednesday 17 August 2022
If you would like a preview of the technologies and concepts that will be discussed in the training, please register for the one-hour Introduction to Decarbonisation webinar on Wednesday 17 August at 3:30pm. This webinar is free to attend. Register for this webinar.

Dates for the follow-up short course, Integrative Design for Energy Productivity and Decarbonisation, will be announced soon.