ACBC NSW Business Roundtable - Market Engagement in China during COVID-19
Learn how to effectively engage the China market during COVID-19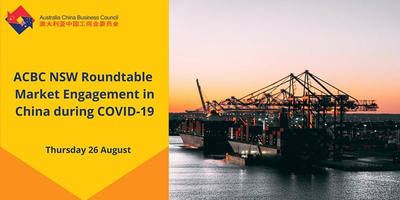 COVID19's disruption of global supply chains has caused shortages and instability in the supply of quality goods to China as it has in other markets. Chinese consumers and businesses are eager for a stable supply chain to be re-established. Hence it is time for committed businesses to re-enter and engage the China market.
The market changes in China are driving new market engagement models. Sara Cheng, Executive Director of China And Beyond, will explain the changes, their implications, and the new models for Australian exporters to engage the China market.
Date: Thursday 26 August
Time: 2 - 3pm AEST
Format: Online
Price: Free
Speaker Bio
Sara Cheng, Executive Director, China And Beyond
Sara Cheng is a well-respected thought leader, and one of the most sought-after China business experts in Australia. She is the co-author of the book 'Engaging China – The Realities for Australian Businessnes'. She has over 20 years of experience in international trade and investment in Australia and China. Sara and her team have assisted over 1,000 Australian businesses to enter and expand in the overseas markets successfully.
As the Executive Director of China And Beyond (www.cnbeyond.com.au), Sara manages her team to assist Australian businesses to trade with China through its trading subsidiary in Beijing, China. China And Beyond has its own e-commerce platforms and trading facilities to import from Australia and distribute in China.