Acid Mine Drainage - Causes, Consequences and Remediation
Acid mine drainage (AMD) occurs when mining operations result in sulfide bearing ores, such as pyrite and chalcopyrite, being exposed to oxygen and water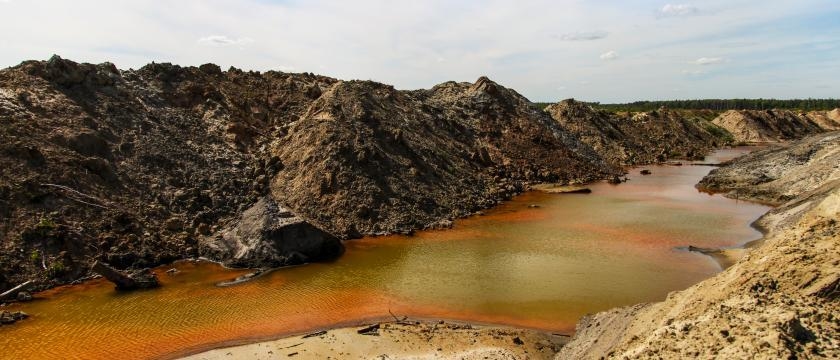 Over time, sulfides react with oxygen and oxidise to form sulfates. These sulfates dissolve in water forming sulfuric acid which then leaches heavy metals from rock exposed by mining. Often, this leads to large quantities of water with very low pH having high concentrations in heavy metals such as manganese, iron, copper, nickel and zinc. Unfortunately, AMD is expensive and difficult to treat, and as a consequence, large quantities of acid mine drainage is stored at both operational and disused mine sites globally.
The United Nations recently labelled AMD as the second biggest problem facing the world after global warming, and when considering previous case studies of dam failures and the dwindling global supply of fresh water, it is easy to see why. With increasing pressure upon miners and governments to resolve both legacy and emerging AMD sources, cheaper and more environmentally responsible methods of treating AMD are required. One potential technology is Ozofractionative Catalysed Reagent Addition (OCRA). The OCRA process, patented by EVOCRA, an Australian-based water treatment company, utilises the oxidative powers of ozone to treat AMD by precipitation of heavy metals as oxides.
Speaker:
Dr David Hunter graduated from the University of Newcastle in 2013 with a Bachelor's degree in Chemical Engineering and completed his PhD last year in the area of mineral processing. During his time studying, he learnt about the challenges facing the mining industry and the environment regarding water sustainability. Hence, more recently, in his role as Research Engineer at Evocra, an innovative water treatment company, he has been working on the development of a technology for treating mine affected waters for recycle and discharge from mines.