Activating Renewable Energy Industrial Precincts in the Hunter
This Innovator Showcase, and Panel of industry leaders will focus on the next steps to secure the jobs of the future in clean-manufacturing through Renewable Energy Industrial Precincts in the Hunter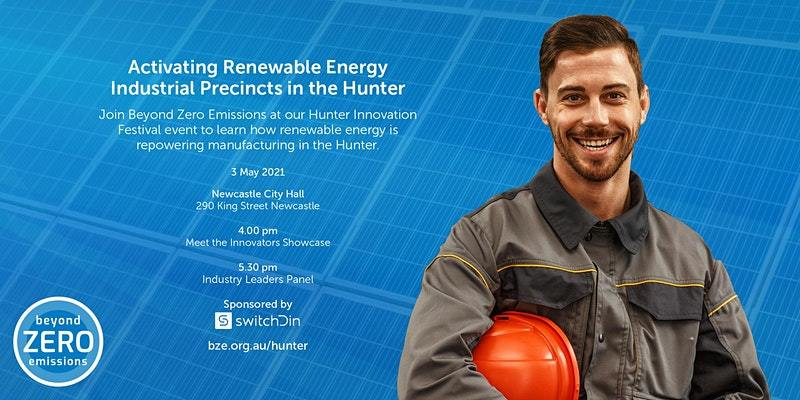 The industrial heartland of the Hunter is on the verge of a transformation toward renewable energy and zero carbon manufacturing.
This event is Hosted by BZE with partners Eighteen04, CLEANaS
4.00pm 'Meet the Innovators' Showcase
Start-ups and established companies in renewable energy and manufacturing will be showcasing their point of difference. Meet the people creating jobs and building the zero-carbon future of the Hunter.
The Bar will be open for the Showcase session.
5.30pm Industry Panel "Activating Renewable Energy Industrial Precincts" (REIP)
Our panel of Hunter industry leaders is:
- Alice Thompson - Committee for the Hunter
- Boris Novak - HunterNet
- Dr Andrew Mears - SwitchDin
- Warrick Jordan - Hunter Jobs Alliance
- Dr Jessica Allen - University of Newcastle
- Sam Mella - Beyond Zero Emissions Panel Host

This event is sponsored by SwitchDin, and hosted by Beyond Zero Emissions with assistance from Eighteen04 and CLEANaS