Are You Ready for Vietnam? Let's start with a strategy
Develop your market strategy and action plan for your successful Vietnam business engagement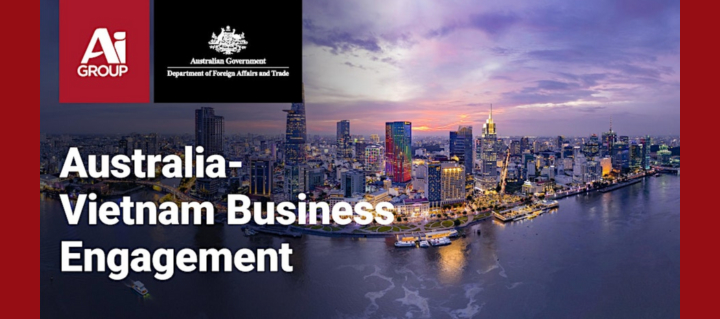 International business expansion into Vietnam can be complex but rewarding for many businesses looking at accelerating their business growth. This requires strategic planning, time, and resources to successfully set up or grow your operations in the market. A plan of action and key considerations can help mitigate many challenges that may arise during the process.
Vietnam has experienced significant economic growth over the past few decades and has emerged as one of the fastest-growing economies in Southeast Asia. The country offers a favourable business environment with a steady GDP growth rate, expanding middle class, and a young and dynamic workforce and a growing appetite for Australian goods and services.
Note: This is a FREE event for Australian businesses. However, registration is necessary to secure your spot.
Why attend:
While Vietnam offers numerous advantages, businesses should also consider factors such as cultural differences, regulatory requirements, and competition within specific industries. Conducting thorough market research and seeking local expertise and partners can help navigate the Vietnamese landscape more effectively.
If you are interested in taking a fresh look at Vietnam as an alternative export market destination or supply chain partner, this program will be for you. This workshop will help you to create a roadmap that lays out your business proposal and the route to your successful trade, business, and investment activities with Vietnam. Use your plan to steer your business management, keep your export strategy and action plan alive and updated, and watch your business grow with Vietnam.
Workshop content:
This two-way engaging workshop will cover topics including:
Identifying and narrowing your gaps
Your unique value/selling proposition and sales pitch
Developing your Market Entry Strategy
Conducting Market Research
Framework for Your One-Page Vietnam Market Strategy
Next Steps and Implementation
Who should attend:
Business Owners, Senior Management Team, Export Development Team, Exporters, Importers, and those seeking to expand their exports, supply and value chains in the market.
Facilitator:
Shirley Ng, Manager International Competitiveness, Australian Industry Group. Find out more on LINKEDIN
Ai Group Trade Mission & Market Visit Program to Vietnam in 2024
Participants who have completed this workshop can explore the opportunity to join an Ai Group Trade Mission & Market Visit Program with pre-arranged meetings for you to meet with your prospective business partners, validate your opportunities or identify gaps in the market on which you can capitalise on.
If you have any further questions regarding this program, please email: big@aigroup.com.au