AusIMM Lithium, Battery & Energy Metals Conference 2021
Held over 2 days in September 2021, the conference will showcase the latest research, developments and innovative technologies relating to Lithium and its expanding market. Hear from and network with over 200 industry professionals.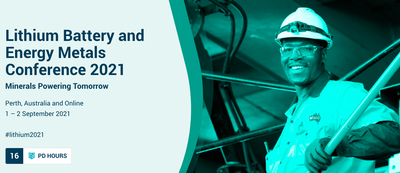 With more than 35 technical presentations, an interactive panel discussion and 6 keynote presentations all exploring new approaches to mineral and metallurgical processing to increase lithium, battery and energy metal profitability in a sustainable energy landscape, this is a critical event for professionals who want to make their mark in this rapidly evolving industry.
Brought to you by the Australasian Institute of Mining and Metallurgy in partnership with Murdoch University, the Lithium, Battery & Energy Metals Conference 2021 is being held in Perth, Australia and online.