Austmine Meet the Miners Online 2020
Austmine is excited to be hosting their first ever online Meet the Miners Series.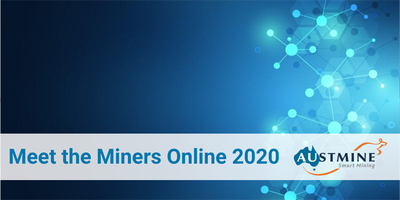 Austmine is excited to be hosting their first ever online Meet the Miners Series.
Austmine strives to create new connection points for mining and METS organisations, with their popular Meet the Miners events a key format for fostering closer collaboration, opening dialogue around operational issues and promoting emerging innovations and technologies. Whilst opportunities to connect and network face-to-face currently remain limited, this series will provide an unparalleled opportunity for Austmine members to establish and develop direct relationships with mining companies and further their understanding of how the industry can better work together.
The Meet the Miners Online sessions will focus on:
How COVID-19 has impacted mining operations and the adjustments required moving forward
Where mining organisations are seeking to unlock future growth
What is needed from METS partners to help develop and capitalise on future opportunities
Series Information
Each session will begin with a short introduction from Austmine before the 24 member attendees are separated into three groups and placed into breakout rooms with one of 3 miners. Groups will spend 20 minutes with the miner before moving to the next online room, thereby having the opportunity to meet all three miners over the course of the hour.
The intent of the facilitated streams is to allow for group discussion and Q&A to flow both ways, providing members with the chance to ask the miners questions and for miners to understand what members can offer.
As with their physical Meet the Miners events, each session will be limited to a maximum of 24 members.
This session
Meet the Miners Online Session 2 | 6 October 2020
Date: Tuesday 6th October 2020
Time: 12:00 – 1:15pm AEDT/9:00 – 10:15am AWST
Guest Miners:
Francis Brown, General Manager Project Delivery, Newcrest Mining
Todd Myers, Manager, Operational Improvement, New Hope Group
Todd Harrington, Project Director, Whitehaven Coal
Registration Information
The Meet the Miners Online sessions are for Austmine members only.
Interested Member organisations can submit an expression of interest to participate in one of the sessions and registration will be confirmed based on pre-determined areas of interest as identified by participating mining companies (listed below). Successful member organisations will then be notified by Austmine in due course.
Once positions have been filled for Session 1, unsuccessful members will be placed on a waitlist and will be first in line for the following session.
Please note: participation in the sessions is restricted in order to open the opportunity to as many members as possible. As such, only one individual per member member organisation can participate and member organisations can only participate in one session.
Eligibility Criteria
Areas of interest as identified by participating mining companies are:
Systems integration and value chain visualisation
Ore sensing and sorting
Underground communications
Resource estimation
Metallurgy test work
Artificial intelligence, simulation and digital twins
Robotics and automation
As such, member organisations with the above capabilities will be prioritised for participation.
If you have any questions about the Meet the Miners Online sessions, please contact membership@austmine.com.au.