Australia-China Innovation and Technology Symposium
ACBC will host a summit on 18 November to explore business opportunities and challenges with China in the innovation and technology sector.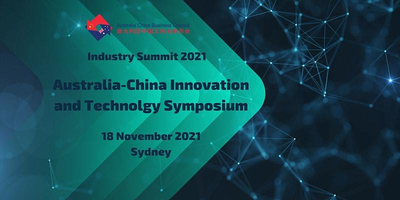 China is a technological leader, accounting for 20 per cent of the world's spending on R&D and producing nearly half of global patents. With its huge market and growing middle class, it presents opportunities for Australian innovation and technology businesses.
ACBC will host a summit on 18 November 2021 to provide insights to Australian businesses about the benefits and challenges in technology and innovation business with China.
With an emphasis on practical advice for technology providers, the Australia-China Innovation Symposium will cover a full range of issues relevant to technology and innovation, as well as cementing the interaction among startups, venture capitalists, accelerators and corporate innovation teams.
Industry experts will draw on their experience and address themes such as:
Policy Environment for Tech in China
Regulatory and IP issues
Innovation Partnerships in China
Application of Blockchain and AI
Structuring Commercial Presence in China
Capital Raising
Hear about the experiences of companies such as Airwallex, Canva, and Judo Bank.
Speakers include:
Rachel Carruthers, Head of Internationalisation & Localisation, Canva
Mandy Jiang, Foundational Investor & Managing Director, Judo Bank
Curt Shi, Founding Partner, Follow[the]Seed
Nick Paggett, Business Development & Global Director, CSIRO
Date: 18 November 2021
Time: 9:30am - 4:30pm
Venue: Sydney venue (Details TBC)
Format: Live conference*, streaming available
Ticket:
Early Bird - Members $150; Non-members $200; Online $50 (+GST & Booking Fee)
General Admission - Members $170; Non-members $220; Online $65 (+GST & Booking Fee)
ACBC NSW places the safety of community above all else. These events are being held in line with NSW Health Guidelines and COVID-19 restrictions. All in-person event attendees will be required to be fully vaccinated and show proof of full COVID-19 vaccination status upon arrival.
*Full refunds will be available for in-person bookings if public health orders prevent the event from proceeding OR registrants are unable to attend due to flu symptoms.
While ACBC is the facilitator of this event, the information and insights provided at this event are not provided by ACBC.ACBC excludes any liability in respect of the information and insights provided and attendees rely on and use the information and insights provided at their own risk.