Australian Clean Energy Summit 2021 (Cancelled)
The Australian Clean Energy Summit is the peak gathering of leaders driving Australia's energy transformation.
The Clean Energy Council regrets to announce that the 2021 Australian Clean Energy Summit has been cancelled due to the ongoing COVID-19 situation around Australia.
Though options were explored to move the event due to the uncertainty of the current situation the event will be cancelled.
The facilitator of the event will be in contact in the coming days to arrangea full refund or a deferment to 2022.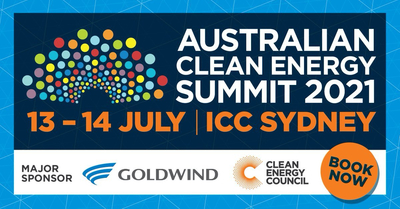 The two-day conference brings together heads of industry, government and finance to share the models, trends and technology innovations in driving clean energy adoption.
The Australian Clean Energy Summit will be held in person and online, with sessions live streamed on the day and available as recordings to ticket holders after the event.