BHP Open Innovation Challenges in Chile - What you Need to Know to Succeed
Join Austmine, Expande and BHP to learn about how your business can get involved in providing solutions to BHP's challenges at their operations in Chile.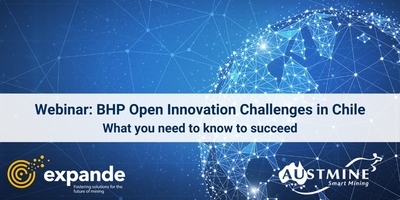 As part of the Expande Open Innovation Program, BHP has released a range of challenges to the market that require collaborative, Technologically advanced solutions. This provides an opportunity for Australian METS to utilise their world-class mining expertise, engage with BHP and expand their business internationally.
The webinar will discuss:
Expande and BHP's Challenge Process in Chile and the lessons learnt to date;
The Expande Open Innovation Program: scope, structure, success stories and opportunities;
Current challenges in the market, timelines and next steps;
Responding to challenges: registration, information sessions, solution submission, interactive workshops and trial projects.
There will also be an extended audience Q&A session.

Speaker Panel:
Andres Mitnik, Business Director, Expande (Chile)
Maria Jose Araneda, Principal Supply Innovation, Minerals America, BHP (Chile)
Robert Trzebski, COO, Austmine
Webinar Details:
Thursday 7th May 2020
10.30am AEST/8.30am AWST
The webinar platform will be Webex and details to login will be provided upon registration.
Contact sheldon.varcoe@austmine.com.au for any questions.