Supplier Innovation Opportunity - Eliminate human exposure during filter press maintenance
Join Austmine and BHP for this upcoming webinar on an open innovation supplier opportunity at the BMA Caval Ridge Mine in Queensland.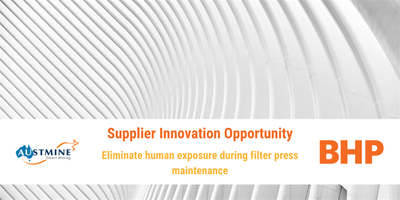 Seeking expertise to help find a solution to eliminate human exposure during filter press maintenance.
This webinar will kick-off the open innovation process and will share details on:
The purpose and scope of the open innovation process;
The process flow and timelines for Australian METS offering a solution to BHP;
Overview the Caval Ridge Mine wash plant operations and the filter press maintenance challenge;
Registration for the supplier innovation opportunity and the solution submission process;
The Austmine and BHP team will also be available to answer your key questions about the supplier opportunity.
Austmine is proud to partner with BHP in facilitating a collaborative approach to forging closer relationships with the Australian METS sector and accelerating the adoption of innovative mining solutions.

Webinar Details:
Tuesday 26th May 2020
12:00PM - 1:00PM AEST
10:00AM - 11:00AM AWST
Platform: Webex
For more information contact membership@austmine.com.au