BHP $10M Tailings Challenge
Join Austmine, Expande and BHP to learn about the $10M Tailings Challenge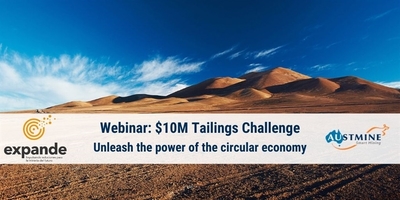 BHP has proposed to make significant progress in the reduction and recycling of its domestic and industrial waste. It has developed specific guidelines for the efficient use of all the resources used in their operations and the protection of biodiversity in the places it operates. BHP believes mining must move from a linear to a circular economy where there is an extension in the use of resources.
In that context and with the support of Fundacion Chile, through its open innovation program Expande, BHP has launched the "$10M Tailings", a global challenge with USD 10 million in prizes, that seeks to promote the development of novel technologies and business models based on the concept of circular economy to repurpose tailings for a new era in mining.

This webinar will provide details on:
The purpose and scope of the program
BHP's aims in recycling and reducing domestic and industrial waste
Key dates and steps in the open innovation challenge process
Registration and details on how Australian companies can get involved
Advice and tips in maximising the challenge opportunity

Speakers:
Maria Jose Araneda, Principal Supply Innovation, Minerals America, BHP (Chile)
Andres Mitnik, Business Director, Expande (Chile)
Robert Trzebski, Chief Operating Officer, Austmine (Moderator)
There will be time for an extended audience Q&A with the speaker panel.


Webinar Details:
Tuesday 9th June 2020
10:00 - 11:00am AEST / 8:00 - 9:00am AWST
The webinar will be conducted via Webex and questions will be through Vevox. Note there is a two-step registration process.
Contact membership@austmine.com.au for any questions.