Business advice for a better start-up
Thinking of starting a business but don't know where to start? Or maybe you have but need help accelerating your performance.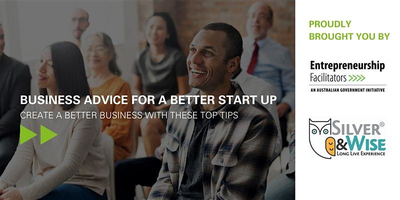 Learn the top tips to make your start-up a success! This one and a half-hour session will equip you with actionable steps to implement straight away.
On the night you will learn:
Eight things you need to know to be successful in business; and
How to get the best out of your digital marketing
These are the two most popular topics entrepreneurs ask our experienced business coaches!
Don't miss the opportunity to start your business journey off on the right foot; register now as spaces are limited!
It is brought to you by the Entrepreneurship Facilitation Service- a free Federal government initiative to help aspiring business owners.
ABOUT YOUR PRESENTERS
Christopher Mooney, Entrepreneur Facilitator Service, South West Sydney
Chris is the Entrepreneurship Facilitator appointed to service the Sydney - South West (Campbelltown) region - an initiative of the Australian Government.
Chris considers himself one of Australia's most experienced and trusted business specialists with a robust international trade and business development background.
Chris has advanced senior executive expertise in strategy formulation, business transformation, business development, strategic marketing, communications and sales in a diverse range of industries across multiple geographies and cultures.
Ashley Hayden, COO, Silver and Wise
Ashley is a business consultant with over 25 years of experience in corporate marketing, executive management and small business ownership.
In 2017, he joined Silver & Wise, an organisation dedicated to training and enabling mature age business ownership. He has been fully trained as a small business coach, mentor and strategic advisor and facilitator.
ABOUT ENTREPRENEURSHIP FACILITATOR SERVICE

Entrepreneurship Facilitators provide free and practical assistance to support and encourage individuals to start a business as a way to create their own job.