Business Disruption I How to reopen safely
The Business Centre's Business Disruption webcasts will address key issues facing business owners during Covid-19 and other significant events.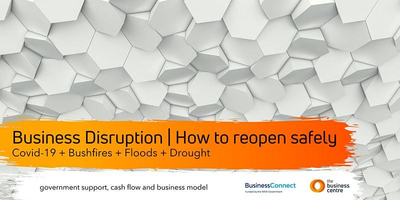 Experts this week are Craig Dalton, Public Health Physician, Conjoint Assoc. Professor, School of Medicine and Public Health University of Newcastle and Kerry Walker Founder, Co-owner and Director of SafetyWorks Group, a professional safety management consultant.
They will answer the questions we are all asking ourselves as we prepare to head back to work and out in public. In particular, they will address the concerns of businesses such as pubs, hotels, restaurants, sporting clubs, cultural organisations, retail, community services and the allied health sector.
Craig is a public health physician at the Univeristy of Newcastle and has a keen interest in and knowledge of COVID19. He trained as an Epidemic Intelligence Service Officer with the Centers for Disease Control in the US. Craig is responsible for Flutracking.net and recently had an article published on physical distancing and enhanced hygiene in the Medical Journal of Australia.
Kerry is an experienced safety professional and business consultant. She is one of Australia's leading providers of holistic safety and wellbeing culture change solutions. Kerry's expertise lies in translating an organisation's health, safety and well-being values and goals into a business-aligned strategy. Her industry experience in engineering design and operations management for a global resources company gives her the capacity to analyse issues with a pragmatic approach to developing solutions. In over 20 years of consulting Kerry has applied this to effect across all levels of a wide range of leading organisations.
See all of our webcasts at our YouTube channel at this link... https://www.youtube.com/channel/UC_2wV_tu7ioMURkQLas2N1g?view_as=subscriber
This event and Business Advisory services under the Business Connect program are funded and supported by the NSW Government through the NSW Department of Treasury. Business Connect is a dedicated and personalised NSW Govt program that provides trusted advice to help you start or grow your business.