Business Disruption Live Webcast I People Risk
This is part 1 of a 5 part webcast series providing practical support and information for businesses facing issues arising from the COVID-19 pandemic and other disruptive events.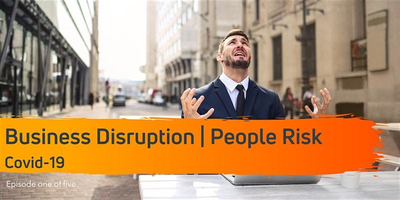 BUSINESS DISRUPTION - PEOPLE RISK
Your employees are your organisation's most important asset. This 30-minute risk management webcast featuring Michelle Dawson, Principal Lawyer at DWF will unpack the current challenges facing business owners managing employees during the COVID-19 disruption.
Topics to be covered:
What leave can staff legally take
What legal rights to employers have to stand staff down?
What processes does an employer need to follow to act in accordance with WHS requirements
Understanding rights and responsibilities
Who is Michelle Dawson?
With over 23 years' experience in the legal industry, 15 of which are in workplace relations law, Michelle is renowned for her provision of practical and outcome-focused advice and representation for her clients. Michelle's practice is predominantly in the employment and industrial relations areas and she has significant experience providing advice to clients on all legal aspects of employment, workplace and anti-discrimination. Her clients include employers across a range of different sectors, including the Victorian Water Sector, conservation and research, not for profit, manufacturing, tourism and hospitality, transport and energy.
More Episodes in this series of live webcasts:
Episode 2 Financial Risk 10am, Tuesday 24th March 2020
Episode 3 Operational Risk 10am, Thursday 26th March 2020
Episode 4 Market Risk 10am, Tuesday 31st March 2020
Episode 5 Reputational Risk 10am, Thursday 2 April 2020
This event and Business Advisory services under the Business Connect program are funded and supported by the NSW Government through the NSW Department of Treasury. Business Connect is a dedicated and personalised NSW Govt program that provides trusted advice to help you start or grow your business.