Business Development Forum - Opportunities in the New Energy Economy
The next Business Development Forum in the series will feature a keynote presentation from Alan Broadfoot, Executive Director of NIER and Tony Westmore, Hub Manager for the NSW Decarbonisation Innovation Hub.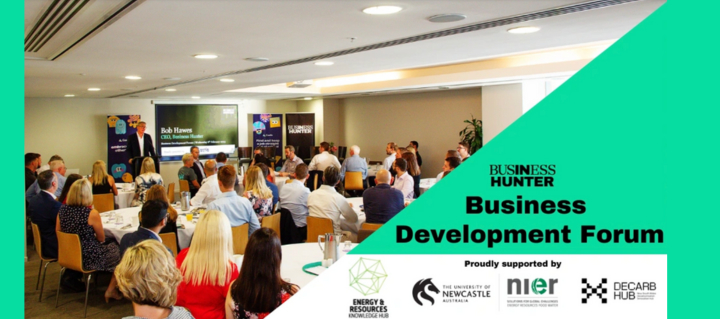 The topic for the breakfast will cover the Opportunities in the New Energy Economy.
About the speakers:

Professor Alan Broadfoot has been the Executive Director of the Newcastle Institute for Energy and Resources (NIER) at the University of Newcastle since 2010. At NIER, Alan leads an ambitious agenda linking industry and academia for transformational research in energy, resources, food and water. Alan holds a Doctor of Philosophy, Master of Engineering and Bachelor of Electrical Engineering (Honours) from the University of Newcastle. Professor Broadfoot will be discussing how to leverage opportunities in the new energy economy.

Tony Westmore has been working at the intersection of energy and climate policy for nearly two decades, as a researcher and advocate, manager and communicator. Previously as general manager at the Australian Alliance for Energy Productivity, he collaborated on the design and delivery of projects ranging from policy and program development to feasibility and demonstration, with a focus on manufacturing, agriculture, transport and the links between. In 2023, Tony commenced as Hub Manager of the NSW Decarbonisation Innovation Hub, which aims to bring together researchers, industry and government stakeholders to collaborate and increase the uptake of new technologies to decarbonise NSW and support the NSW Government's goal of net zero emissions by 2050. Mr Westmore will provide an overview of the NSW Decarbonisation Innovation Hub and upcoming opportunities for businesses to engage.
This event is proudly supported by NIER, the NSW Energy and Resources Knowledge Hub and the NSW Decarbonisation Innovation Hub.