Business Session - An Insider's Guide to Business-University Collaboration
Join Cooperative Research Australia for a two-part workshop series for university researchers and businesses on building industry-university collaborations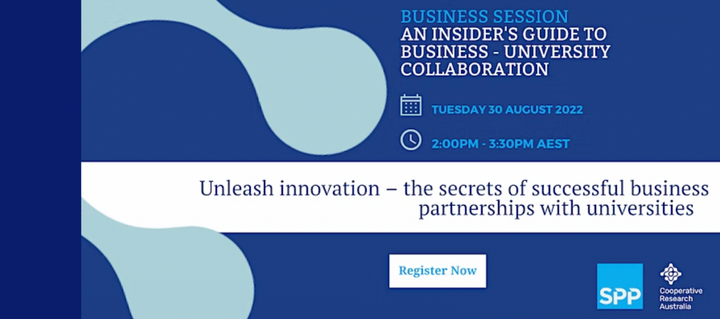 Cooperative Research Australia and SPP are running a practical two-part workshop series for university researchers and businesses on building industry-university collaborations that deliver results.
Featuring one peer-peer-session for universities, one peer-to-peer session for business, and a final session that brings university and business participants together to share their perspectives and find common ground.
Each workshop will feature a panel of experts and experienced practitioners who will share their experiences and tips around building strong collaborations.
For Business
Breaking barriers to collaboration: A practical guide for business on how to work with universities without breaking the bank.
Tickets to this event are for BOTH dates below, this is a two-part workshop.
Part 1: Tuesday 30 August 2022, 2:00pm-3:30pm AEST
Part 2: Tuesday 6 September 2022, 2:00pm-3:30pm AEST
You will be sent a link to register for part 2 separately.
For the business session we are pleased to welcome the following panelists:
John Ness, Chief Technology Officer at EM Solutions
Cecilia Warren, Independent director at iMOVE and former head of innovation at IAG
Ben Apted, SPP Management Consultants
Jane O'Dwyer, CEO at Cooperative Research Australia
Audience
Participants from industry are coming together from all over Australia. Participants are from SME, startups, family businesses, and some from larger companies across a variety of sectors. Role titles include CEOs, R&D Managers, Chief Technology Officers, Business Development Managers, Chief Operating Officers.
Participants registering for the session will be interested to explore the opportunities to leverage research into collaboration and potentially be applying to the CRC or CRC-P program and are often new to industry-research collaboration.
This session provides the critical information you need to build a successful collaboration, we bust some of the common myths around successful collaboration and explore case studies that highlight important lessons. It prepares participants for the second session with researchers interested in industry collaboration.
The session will also expose attendees' applicants to the broader support network available to them as they build their collaboration.
Cost
CRA Members $295 inc GST
Non Members $395 inc GST