Caring for your health & wellbeing: nourishing bodies and minds
The long-term chronic stressed endured by business owners in a pandemic can really take its toll on our wellbeing.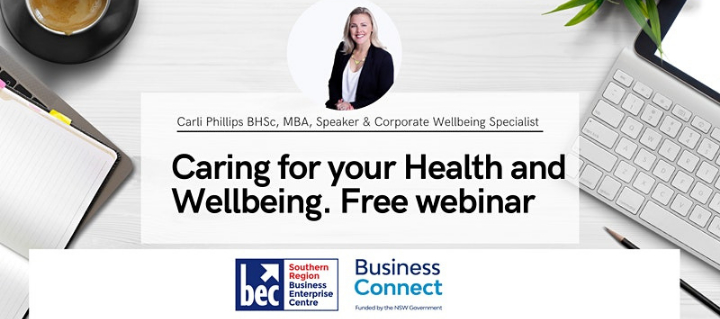 Caring for your health & wellbeing because we need more support than ever!
We can easily fall out of our healthy habits and find ourselves in a slump. To protect our wellbeing, we must boost our selfcare. In this virtual event we showcase a broad range of self care strategies, health tips, action plans and a Wellbeing and productivity planner to get started straight away and stay on track!
You will learn about:
• Food and moods
• Improving gut health
• Brain food and stress busters
You will leave this session:
• Tricks of a Nutritionist cheat sheets
• Energy management
• Boosting mindful moments
This is an online ZOOM event suitable for businesses throughout NSW. Those who attend will receive a copy of available resources and the recording link.
About the presenter - Carli is a Wellbeing keynote speaker, Mental Health First Aider and Nutritionist. Combining 20 years of Health & Wellbeing expertise with Wellbeing lead roles in multinational corporations, Carli is an expert in corporate wellbeing. With a Degree in Health Science and a Masters in Business, Carli has conducted extensive research into mental health strategic planning and corporate wellbeing.
Carli's practical and honest approach to wellbeing, comes from her own experience of burning out as a parent, partner, employee and business owner. Sharing her selfcare tips with realistic and evidence-based strategies, provides unique action plans for everyday busy people.
The joining link for this online webinar will be emailed directly to you from the SRBEC the day prior to commencement. Please check your junk folder for this email.
NSW registrations are required to register with the Business Connect program on - https://business-connect-register.industry.nsw.gov.au/Home/Loginsignup
NSW webinar registration link - https://bit.ly/3mCAkef
Business Connect is a dedicated and personalised NSW Government program that provides trusted advice to help you start or grow your small business.