Charles Sturt University - Business Accelerator Masterclass
Practical methods and tools to develop your brand strategy by getting to the heart of why you do what you do , who you do it for.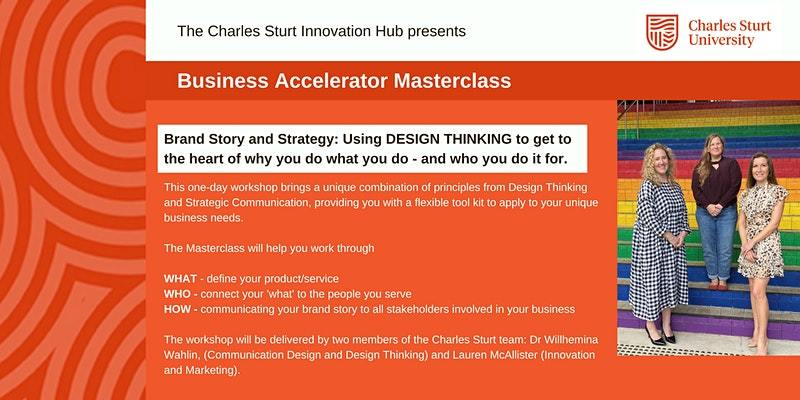 Most businesses owners identify their target market. But how much do you really know about the people that you're trying to serve?
What do they do in their spare time?
What are they passionate about?
What problems do they have?
Most importantly, is your product or service uniquely designed to solve their problems?
The Business Accelerator Masterclass brings a unique combination of principles from Design Thinking and Strategic Communication, providing you with a flexible tool kit to apply to your unique business needs.
The workshop will be delivered by three members of the Charles Sturt team: Dr Willhemina Wahlin, (Communication Design and Design Thinking) and Lauren McAllister (Innovation and Marketing) and Victoria Erskine (Strategic Communications).
The workshop will provide you with practical methods and tools that you can apply to your business and brand development - every day.
What: Design Thinking
We begin this session by exploring the 'double diamond' model of Design Thinking to help you look at your business with fresh eyes. We start with identifying your business' core values, then use a range of practical Design Thinking tools to define your products, services, and people.
Who: Design Thinking
Do a deep dive into some Design Thinking research methods that will help you shift gears from 'market' to 'people'. Learn how to use tools like empathy mapping and personas to help you connect your business' WHAT to the WHO you serve, creating a foundation for your future strategies.
How: Strategic Branding and Communication
We bring together the WHAT and WHO as a foundation for building your branding and communication strategy.
Learn about the value of visual and written communication strategies to target the right audience and use Design Thinking approaches to experiment (prototype) with different types of messaging.
Register your interest
Those who participate in the Masterclass will be invited to continue their learning in the extended Business Accelerator Program, to commence in October.
This will include focused learning in the form of a Charles Sturt University Micro-credential, which can be mixed, matched and stacked towards a tertiary qualification. The Masterclass and Micro-credential study will be supported by hands on, real life success stories, through Industry Spotlights featuring local businesses.
Places in the Masterclass and Program are limited to 15, as this is funded under a Scholarship program - a partnership between Port Macquarie-Hastings Council and Charles Sturt University Innovation Hub.
So register your interest as soon as possible to secure your spot!
When: Over two days
Thursday 7th October, 9am – 1pm.
Friday 8th October, 9am - 1pm
Where: Online (details provided on registration)