Cicada Innovations Report Launch: "Australia's Deep Tech Opportunity"
Presented by Australia's Pioneer Deep Tech Incubator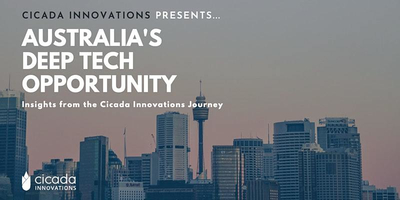 Australia's Deep Tech Opportunity, prepared for Cicada Innovations by AlphaBeta, shows how critical deep tech is in addressing our biggest challenges, and how it is already creating value for Australia in a multitude of ways. It documents how deep tech incubators serve the unique needs of deep tech startups, and sets out a vision for Australia to realise its deep tech potential.
Join Cicada as they look at back at the last 20 years of pioneering deep tech in Australia, and look ahead at work to be done for the next 20.
Cicada Innovations is an incubator supporting visionary deep tech innovators to validate, commercialise and scale high impact technologies globally. Deep tech startups are companies founded on a scientific discovery or meaningful engineering innovation that address real-world problems.
For twenty years Cicada have brought together the best minds in science, industry and business, and have nurtured companies that are making a difference where it matters most.