Circular Australia's Metrics Report Launch
Measuring the circular economy in the Australian context is essential in enabling a safe and speedy transition to the new zero carbon zero waste future.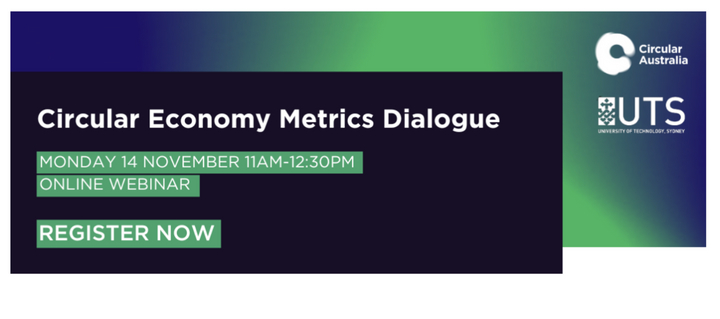 Join Circular Australia (CA) on Monday 14 November (11am-12:30pm) as they launch a national dialogue on Circular Economy Metrics. CA will release their latest circular economy metrics research, conducted in partnership with the Institute for Sustainable Futures (ISF), University of Technology Sydney.
This online session will begin with a presentation on the circular economy metrics research, followed by a panel discussion with CE experts from across the country:
Dr Heinz Schandl, CSIRO
Ian Overton, Green Industries SA
Cate Turner, Recycling Victoria

There will also be an opportunity for audience Q&A.
This suite of wide-ranging Australian circular economy metrics will assist governments, organisations and businesses set targets and measure progress towards a circular economy.
Register now to attend the webinar on Monday 14 November 11am-12:30pm, and be the first to access our CE Metrics Reports. CA look forward to having you involved in this important conversation, as they discuss this leading work with the Australian circular economy community of practitioners, industry, research and government.