Climate Integrity Summit 2023
Bringing together leading experts to discuss and address integrity risks that could jeopardise Australia's emissions reduction policies.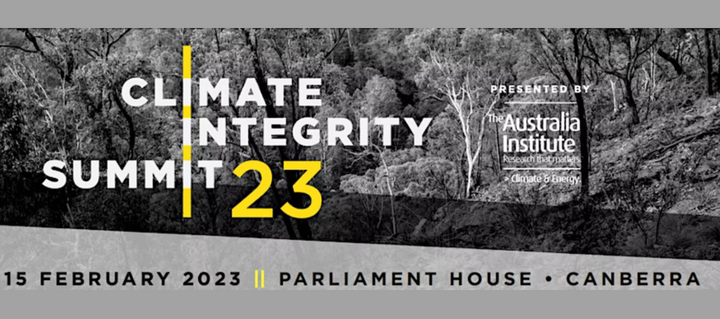 Will Australia's climate targets have integrity? Are we set for a green investment boom or greenwash?
It is time to bring the key themes of the 2022 federal election—climate and integrity—together to ensure the Australia's emissions reduction policies can and do legitimately reduce emissions.
The Australia Institute's Climate Integrity Summit will bring together leading experts in economics, ecology, policy and governance, along with key parliamentarians and journalists to discuss the ethics, economics and risks of fraudulent net zero claims, overreliance on carbon offsets and policy that serves the fossil fuel industry not the climate.
Key speakers include:
Dr Bill Hare, CEO of Climate Analytics and member of UN High-Level Expert Group on the Net-Zero Emissions Commitments of Non-State Entities
The Hon Anthony Whealy KC, Former judge of the NSW Court of Appeal
Allan Fels, Former Chair, Australian Competition and Consumer Commission
Professor Andrew Macintosh, environmental law and policy expert at ANU College of Law
Karrina Nolan, CEO, Original Power
Pamela Avusi, Program Coordinator at Forcert, an NGO based in Papua New Guinea (PNG)
Senator Sarah Hanson-Young, Australian Greens Spokesperson for the Environment & Biodiversity
Senator David Pocock, independent Senator for the ACT
Dr Sophie Scamps MP, independent Member for Mackellar
Dr Monique Ryan MP – Federal Member for Kooyong
Kieran Pender, Senior Lawyer, Human Rights Law Centre
Stephen Long, Senior Reporter Investigations, Business Reporting Team, ABC
Polly Hemming, Senior Researcher and Acting Climate & Energy Program Director, The Australia Institute
With more to be announced soon...