ClimateLaunchpad Australian Final Pitch Night
The Australian final of ClimateLaunchpad - the world's biggest cleantech and green business ideas competition, taking place in 62 countries this year.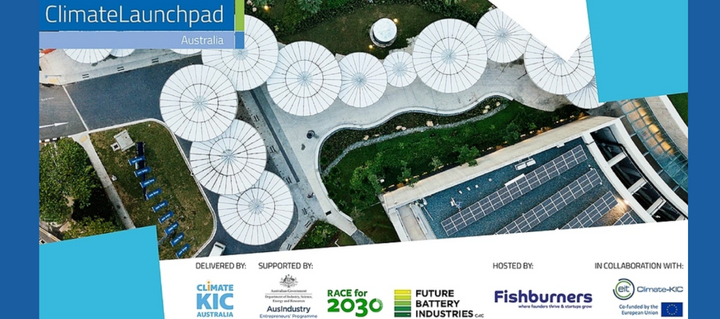 Since entering the program in May, 6 early-stage cleantech and green business start-ups have battled their way to Aussie dominance, and are now ready to go global.
The top 3 teams from the Australian Final of ClimateLaunchpad will move on to the next stage of the competition: the ClimateLaunchpad Asia Pacific Regional Final. And as a bonus, we have a couple of pathway prizes up for grabs, thanks to the Global Entrepreneurship Congress and the Victorian Cleantech Cluster:
· One team will get the opportunity to pitch at the Global Entrepreneurship Congress in Melbourne next year
· One team will receive direct entry into the 2022 Victorian Cleantech Expo
The finalist teams are:
Ecosystem Farms: Ecosystem farms is a farming platform that integrates agriculture and aquaculture, leveraging natural ecosystems. The platform uses 95% less water, no soil, can grow plants from herbs to orchard trees, no chemical fertilisers, is compatible with large scale equipment like tractors, and is scalable for large primary production.
Calyx: Calyx hopes to become Australia's biggest product sourcing platform and software to analyse the sustainability of the entire product chain. This will allow food companies to make informed decisions around transport, logistics, packaging and sourcing of products to reduce the carbon footprint of single products and product chains.
Spark 3d: Spark 3d create 3D printers for electronics, solar cells and batteries, that can deposit metals, semiconductors, polymers and insulators, faster and at higher resolution than existing techniques, while using less energy, and creating almost no waste.
SythLett Cells: SythLett Cells manufacture slower-degratding, lightweight, non-flammable batteries for use in aviation.
Thermal X Engineering: Thermal X Engineering is bringing heat pump technology into low temperature energy generation applications to create more efficient, more cost effective and more widely applicable energy generation solutions.

UpSol: UpSol is a a social enterprise supplying rapidly deployable containerised solar power systems with back-up battery energy storage, as a sustainable substitute for diesel powered generators.