Communities Leading Climate Action
Your community and our climate needs you. Hear the achievements of three organisations and how they can enable you to take action today.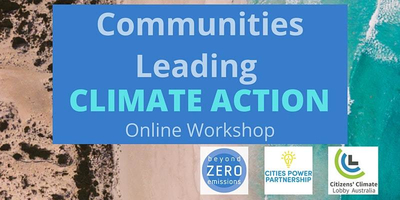 Local Jobs, Local economic recovery
At this event you will hear from three leading organisations collaborating to attract the many community talents needed now. Beyond Zero Emissions; Citizen's Climate Lobby Australia and Climate Council Australia.
Speakers:
Greg Mullins - former NSW Fire Commissioner and Climate Council Australia leader
Dr Dennys Angove - Climate Scientist and Citizens Climate Lobby leader
Imogen Jubb - National Manager of Beyond Zero Emissions Zero Carbon Communities initiative
Hear about aims to change from current systems to new ways to thrive, creating millions of new jobs, keeping our government representatives accountable, monitoring the scientific evidence and using it to shape community innovation with support and investment pathways. Learn more about ways to volunteer, collaborate and contribute.
Your community needs you.