Connecting Circular Economy and Climate Action Masterclass
This masterclass will equip attendees with the knowledge, insights and practical tools for delivering change in their networks and across our region.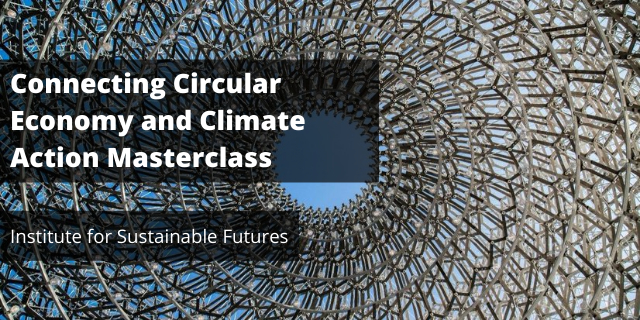 Shifting to a circular economy can help to achieve climate and sustainable development goals. Pressure is building to lower emissions by 2030 and we need new business models for sourcing and managing products that go beyond emissions offsets and recycling.
A circular economy offers industry, business and governments major opportunities for value creation and innovation while addressing social, environmental, economic and governance challenges.
To make the most of these opportunities, decision makers in Australia can help activate change in their operations and across sectors by drawing on international best practice.

This masterclass includes the following features:
International guest presenters on leading policies, strategies and procurement programs
Facilitated by One Planet Consulting (Helen Millicer) and the Institute for Sustainable Futures at University of Technology Sydney (Damien Giurco)
Participant activities focused on levers (including policies, financials, markets, regulations and procurement) that deliver systematic change
Networking-friendly breakout group activities

Who should attend?
This masterclass is designed to support decision-makers in business, industry and governments. It supports debate and actions addressing issues in all supply chain stages. It is relevant to people concerned with impacts and opportunities in design, manufacturing, retail, procurement, repair and reuse, collections and end of life destinations.
Ideal for: CEOs, CFOs, Business Development, Sustainability, contract and account management, PR/Comms/Brand management.
What will you gain?
Comprehensive overview of drivers in Australia and global trends following COP26
Understanding the synergies between climate, emissions, circular economy
Knowledge of leaders, their successful strategies, innovations and actions
Appreciation of the essential changes and levers available to us in Australia to transition to a more circular and low emission future
Inspiration and connection with global leaders and Australian colleagues
In-class exercises that assist in providing solutions to your priority workplace issues.
Please note, due to unforeseen circumstances, Day 1 of the masterclass series has been postponed until 2022.