Creating Value in Uncertainty webinar series
Discover ways to create value for your business and customer in uncertain times.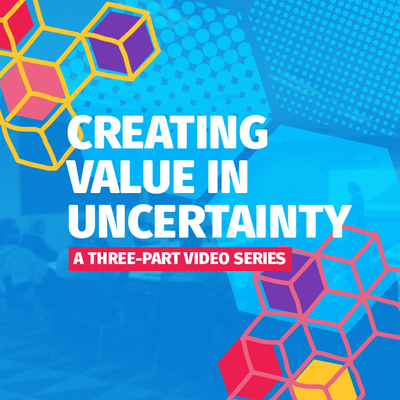 Creating Value in Uncertainty is a three-part webinar series that provides practical approaches and tools to help established business owners and managers explore, evaluate and execute opportunities that add or create new value for customers and their business in times of rapid change and uncertainty.
Your registration enables access to all three 1-hour videos, slide decks and workbooks.
=================
Expert Facilitator
Claire Quigley is an accomplished commercial marketer, innovation strategist and business development manager. She holds domestic and international experience in B2B sales. Specialising in business model and value proposition design as well as go to market strategies and sales enablement, Claire understands what to look for when creating business success.
=================
Video 1 - Explore opportunities
Discover tools that will help you look at your customer needs in a new way. Learn how to ask better questions to get better solutions. Equip yourself with effective ways to test your ideas fast.
Video 2 - Evaluate potential
Find ways to lift your business model to deliver what is needed. Learn effective idea generation and evaluation approaches. Take the litmus test – will this generate the margins, customers and sales you are looking for?
Video 3 - Execute plans
Discover frameworks that allow for your current business environment, and create focus & momentum to execute on new ideas. Learn how to avoid the overwhelm of what needs to be done through structured roadmap models. Focused execution is king!
=================